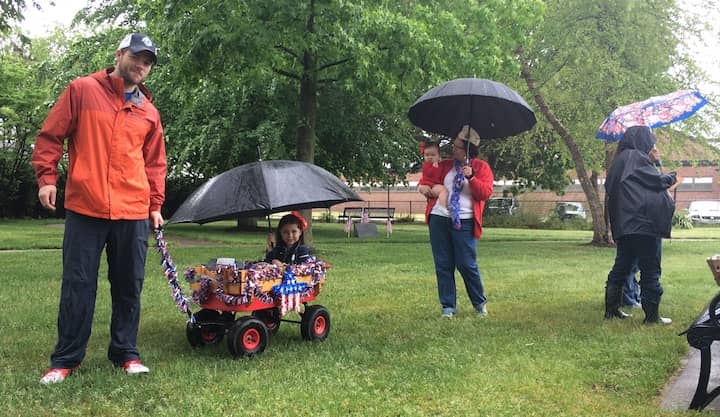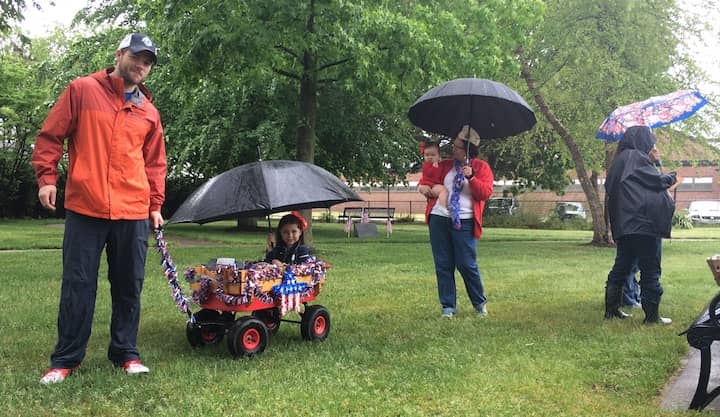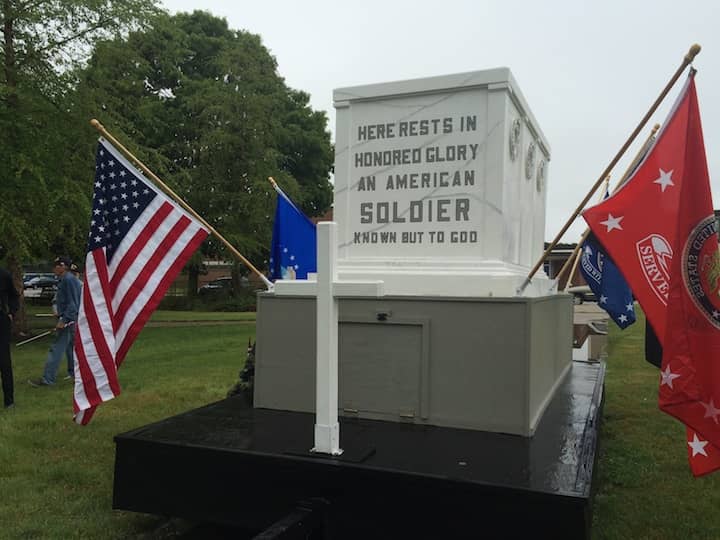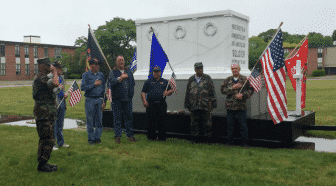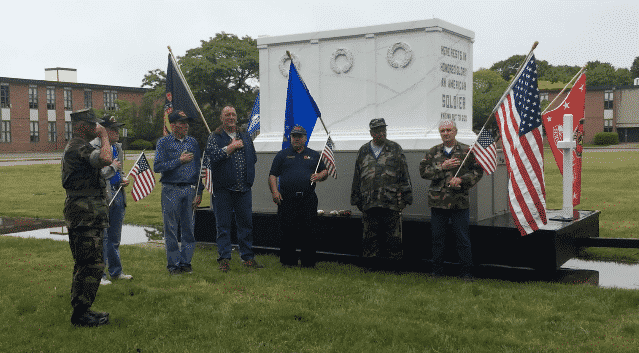 Warwick, RI — Memorial Day parade marchers, gymnasts, bands and all but one float were canceled by Monday's rain, but a small group of 20 carried umbrellas to meet the Tomb of the Unknown Soldier float at Warwick Veterans Memorial High School under stop-and-start showers.
"Thank you. This means the world to me," said Mary Ellen Mullen, whose brother, Leo Mullen, served in Vietnam and was killed in action in 1969.
The Tomb of the Unknown Soldier Parade Committee, with members in Fall River MA and Warwick, was the only float to brave the parade route Monday morning after Warwick Veterans Council President Tony Rodrigues called the parade on account of the rain.
The float drove slowly down Warwick Avenue along West Shore Road to Warwick Veterans Memorial High School, where a small group of veterans and families gathered to observe the Pledge of Allegiance and the National Anthem as the weather ranged from steady rain to drizzle and an occasional spot of sunny weather. Three retired US Marines escorted the float, pulled by a black pickup: Dennis Lawton (Gunnery Sgt. ret. 1985), Antonio Taylor (corporal, ret. 1985), and Glenn Sykes (ret. 1966).
As the veterans made their observances and chatted under umbrellas, a small group of about 10 people arrived at Veterans Memorial Park in front of Warwick Veterans Memorial High School. Leading them was Jim Burrows, senior vice chair for the RI DAV, towing his grandchildren, Mary, 9 months and Rileigh, 4.
The day may not have brought good weather, said Rodrigues, but it was a good Memorial Day nonetheless.