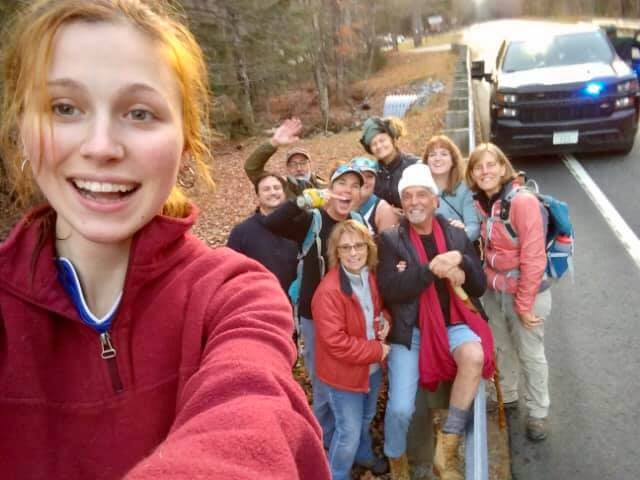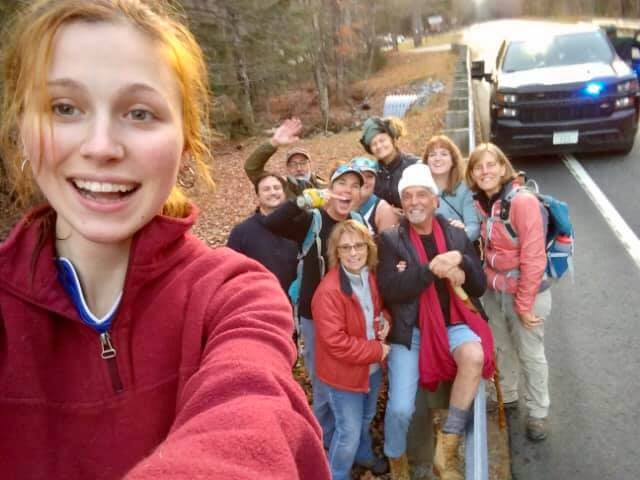 ALBANY, NH — Joseph Mirra, 72, has a lot of fun photos from his hike Nov. 9 on the Champney Falls Trail, and the last couple of photos show a lot of new friends, a fractured femur and a big smile.
Mirra fell around 3 p.m., about half a mile from the trailhead, where there is no cell phone service, according to the NH Fish and Game Department. A passing hiker found him and drove about ten miles before she was able to alert personnel from the US Forest Service of the incident, according to the department.
When Conservation Officers arrived, they found that additional passing hikers had stopped to help Mirra. One, Melissa Lishman, a nurse, organized the group to carry him off the trail, said Karen Jenkins, his girlfriend, who was with him on the hike.
They were able to work together to assist him and were nearly to the trailhead. He arrived at the trailhead shortly after 4 p.m. and was taken from the scene by Conway Ambulance to the Memorial Hospital for treatment.
The original report was that Mirra had broken his hip, but a Facebook post from the day, and a conspicuously bare leg, point to Mirra's femur as the problem area. The injury required surgery, which was successful, according  to Jenkins.
"Joe is out of surgery and already moving around with a walker. Thank you all for the good wishes!"
The post starts off with a little more of the story: "Good morning friends! We have been in North Conway (NH) for a few days enjoying the late fall weather. We hiked yesterday up to Champney Falls, and it was glorious. If you skip to the end of the photos you'll see the day didn't quite end as expected. Joe tripped and fell on a rock, fracturing his femur. A group of fellow hikers pitched in to carry him out. There truly are some good people in this world."
Outdoor enthusiasts are encouraged to purchase a Hike Safe card at www.wildnh.com/safe, which supports Fish and Game search and rescue activities. For safe hiking tips and a list of essential gear, visit hikesafe.com.