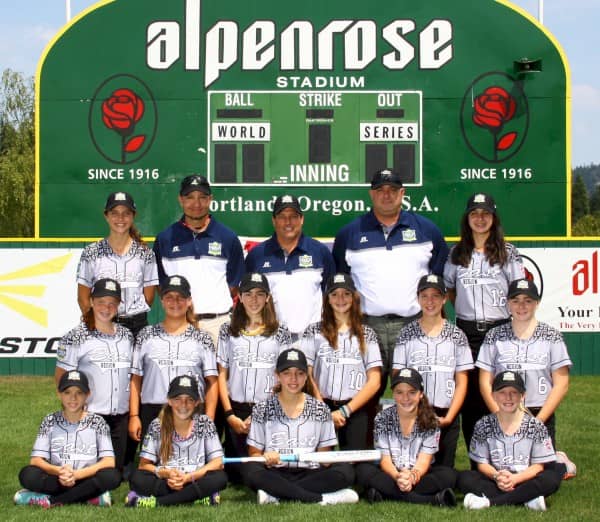 Portland, Ore. — The Warwick North All-Stars finished #2 in the world at the Little League Softball World Series after a 4-2 loss to North Carolina on Wednesday night, Aug. 18.
North Carolina took an early 4-0 lead in their first at-bat, triggered by a bases-loaded grounder by Ellen Yang that turned into a 3-RBI single and chased Warwick starting pitcher Sierra Ricci off the mound after 20 pitches.
Emily Carter took the ball in relief and surrendered a double to Kali Morton that brought Yang home before notching a strikeout against Kaylin Dowling and drawing Ellie Wilhelm into a ground-out.
Warwick took a chip out of the North Carolina lead in the bottom of the third when Dyonna Rodas placed a grounder to center and brought Madison D'Amato home to make the score 4-1.
Rodas finished as Warwick's top offensive player for the tournament, posting a 1-for-3 record with 1 RBI at the plate in the finals.
Olivia Murrary [1-for-2, 1 run] scored in the visitors half of the fourth on a sacrifice ground-out by Hailey Mackinnon to cut the deficit to 4-2. Murray had reached first on a bloop single, then advanced to second on a steal and to third on a wild pitch.
The teams traded defensive stands into the sixth, including seven straight retired batters for Warwick as they headed into their last at-bat.
A Bryanna Ratella pop-out to first base sealed the victory and the championship for North Carolina, ending a streak of four straight victories for the Rhode Island team by a combined 24-14.
Carter shut out North Carolina through 5 2/3 innings, notching 4 strikeouts and surrendering four hits. Kali Morton pitched the complete game for North Carolina, allowing 2 runs on 4 hits with 3 strikeouts and a walk.
"Great effort. We're proud of those girls," Anne Robinson, a teacher at St. Peter's School, wrote in a text message after the game. Sophia DeTroia, Alyssa Richard, Sydni Bigelli, and Mikayla Capicotta are all students at St. Peter's.