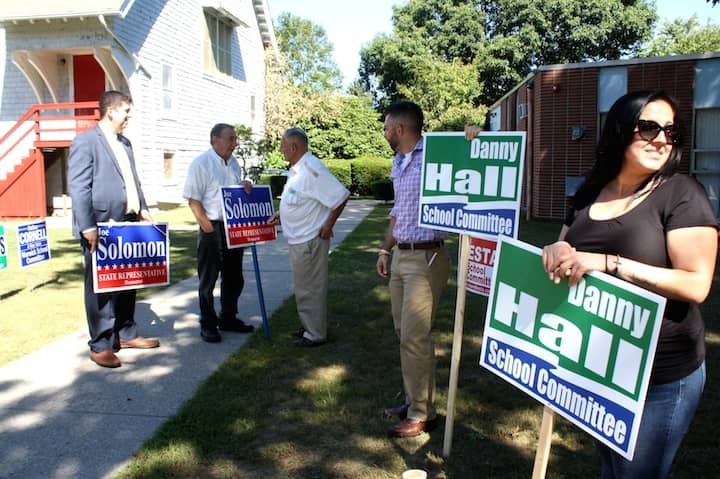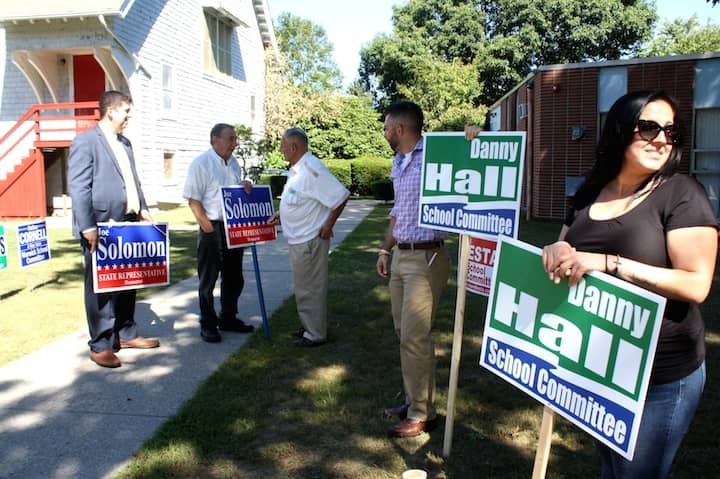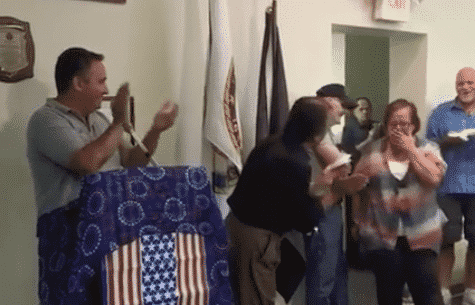 WARWICK, RI — A meager showing of state primary voters has ousted incumbents Dist. 30 Senator William Walaska and Dist. 21 State Rep. Eileen Naughton, the latter in favor of an ebullient Camille Vella Wilkinson, the current City Councilor for Ward 3.
"Ladies and gentlemen, I'm just… I'm so overwhelmed. I'm so overwhelmed," said a visibly ecstatic Camille Vella-Wilkinson at her 777 Airport Road campaign headquarters after news of her win.
Both Vella-Wilkinson and her campaign manager, James Fargnoli, wiped tears from their eyes as supporters clapped and cheered.
"There isn't anyone in this room who didn't help," Vella-Wilkinson said, noting the personal efforts of her campaign volunteers, including herself and Fargnoli, made with people to encourage them to cast their ballots. With postcards, phone calls and personal visits, she said, she and her supporters told voters, "We've got to fight the machine, and that's what we did, we fought the machine."
"I also want to say that we had a tremendous amount of support from labor in this city, from firefighters, from the municipal unions, from the teachers' union, from police, from IBEW," Vella-Wilkinson said, "We had a lot of unions that came together, and I am grateful that none of you listened to state leadership when they said, 'Vote for the other person,' " she said.
"This is just the beginning," Vella-Wilkinson said.
Vella-Wilkinson won the Democratic nomination against Naughton 542 – 469. She'll face Republican Michael Penta and Independent Michael Underwood in the Nov. 8 election.
The relatively few voters delivering Vella-Wilkinson's primary victory represented a city-wide trend for this year's primary, which Board of Canvassers Elections Director Patty Aylesworth called, "Extremely low."
Specific turnout numbers were not available Tuesday night, but, "That's what I'm hearing from the polling locations," Aylesworth said at about 5:30 p.m. She was at a loss to explain the low turnout, but one thing was certain, "It's not the weather this time," she said of the sunny late-summer day.
Walaska lost the nomination to Jeanine Calkin, 1,090 to 1,015. Calkin runs unopposed for the Dist. 30 seat, as potential Republican challengers Joseph Bannister and William Clegg III dropped out of the race without filing enough signatures, according to the Warwick Beacon.
Incumbent Democratic Rep. Patricia Serpa, whose district includes West Warwick, Coventry and Warwick, lost Warwick to Nicholas E. Delmenico, 49 to 41, but won the District 27 vote by a count of 454 to 370. Serpa faces Independent Mark Bourget in the Nov. 8 general election.
In Dist. 22, incumbent Joseph J. Solomon, Jr. defended his post against challenger Jennifer Sicilliano 605-417. Solomon will run against Independent Elizabeth Smith in November.
One of the few primary races producing votes numbering in multiple thousands was the four at-large School Committee candidate slots up for grabs this season, one of which was won by incumbent Karen A. Bachus.
Bachus earned the most votes cast in Warwick during the primary with 3,587, and David A. Testa won the second at-large slot with 2,486 votes. Dean L. Johnson [1,746] and Daniel E. Hall [1,735] round out the slate for school committee, with the top two vote-getters on Nov. 8 earning seats on the board.
2 to elect
| Candidate | | Total votes | Pct |
| --- | --- | --- | --- |
| Karen A. Bachus | | 3587 | 30.9% |
| David A. Testa | | 2486 | 21.4% |
| Dean L. Johnson | | 1746 | 15.1% |
| Daniel E. Hall | | 1735 | 15.0% |
| Nathaniel L. Cornell | | 1545 | 13.3% |
| Chadd L. Huddon | | 496 | 4.3% |
The remaining City Council primaries have now set Democrat Richard Corley against the candidacy of Republican Richard Cascella, endorsed by Mayor Scott Avedisian in Ward 1 (currently represented by Republican Steven Colantuono); Democrat Jeremy Rix against Republican John Silvaggio in Ward 2 (currently represented by Democrat Thomas Chadronet), and Democrat Stephen P. McAllister running unopposed in Ward 7, (currently represented by Democrat Kathleen Usler):
Candidate
Total votes
Pct
Richard K. Corley*

(DEM)

379
45.5%
Patrick E. Maloney, Jr.

(DEM)

264
31.7%
Tanios Elie Bouramia

(DEM)

190
22.8%
Candidate
Total votes
Pct
Jeremy Rix*

(DEM)

481
63.5%
Sean F. Rainey

(DEM)

163
21.5%
James M. Donelan

(DEM)

114
15.0%
Candidate
Total votes
Pct
Stephen P. McAllister

(DEM)

265
33.5%
Charles J. Donovan, Jr.*

(DEM)

261
33.0%
John T. Kirby

(DEM)

135
17.0%
Robert Germani, Jr.

(DEM)

131
16.5%
Congressman James Langevin defended against primary challenger Steven Archer, bringing in 3,543 votes to Archer's 1,674. John D. Hamilton won 697 votes.
"I am honored and incredibly grateful to the Democratic voters of the Second District for their support. I cannot thank them enough. It's their support that keeps me going and their experiences that inspire me to continue my journey in public service," Langevin said.
"I have long said that I do not see my position as a birthright – I am merely a steward of a seat that belongs to the people of Rhode Island, and I will keep working hard every single day to represent Rhode Islanders to the very best of my ability. I also want to thank my primary opponents, John Hamilton and Steve Archer. I am encouraged to see more people interested in getting involved in our democracy, and I congratulate them on their respective campaigns."