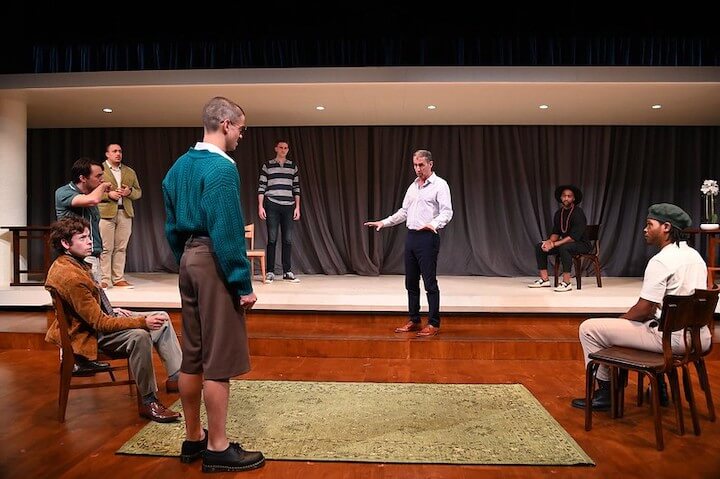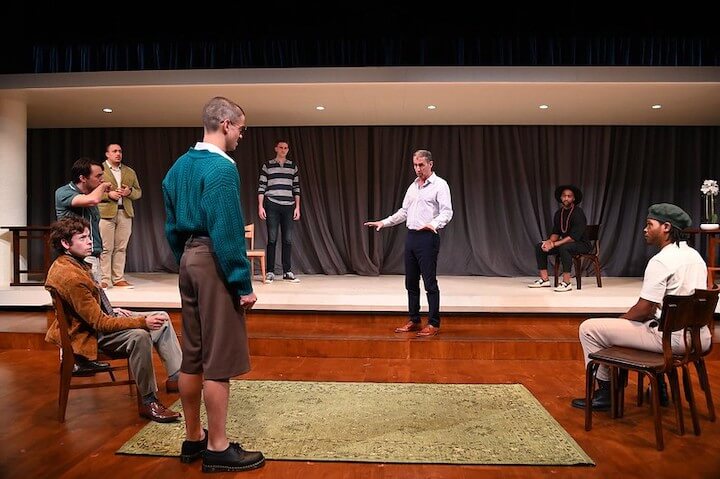 PROVIDENCE, RI —"The Inheritance, Part 2" continues the racy, poignant saga of a group of gay men in New York City.
The first part of the story featured the break-up of Eric Glass (Jack Dwyer) and Toby Darling (Taavon Gamble). In the second half, both men's lives take drastically different paths.
Eric falls in love with Henry (an excellent Mauro Hantman), a Republican billionaire, and moves into Henry's mansion. They soon make plans to marry. We learn Henry has some emotional baggage which threatens the relationship.
Meanwhile, Toby, still reeling from the end of his relationship with Eric, wallows in hedonistic excess on Fire Island. He uses lots of drugs and engages in promiscuous sex.
Toby's play, based on his book, finally debuts. Toby disrupts the opening night performance by throwing a tantrum and walking out after showing contempt for his own work.
The sense of alienation and despair experienced by minorities during the previous presidential administration is also laid bare.
Playwright Matthew Lopez set out to present a theatrical version of a novel. In this case, it's EM Forster's "Howard's End."
The characters take turns narrating the story and the settings alternate between posh apartments and lavish country estates to the harsh streets of the city.
Once again, Dwyer and Gamble deliver passionate performances. Eric is the idealist who wants to help the less fortunate in society, while Toby sinks into self-loathing and seems destined to destroy himself. Toby's mental disintegration is wrenching to witness.
Chingwe Padraig Sullivan is a standout in dual roles: Adam, the stage actor whose career is blossoming, and Leo, the male sex worker who is in love with Toby. Leo is later taken in by Eric after getting infected with HIV.
Jackie Davis ("Fairview") has a show-stopping monologue as Margaret, a woman mourning the death of her young son to AIDS. Margaret also dissects the homophobia which was rampant in the 1980s.
There's a fascinating scene early on, when Eric's friends are horrified to learn that Henry is not only a Republican, but that he actually donated to the party's 2016 candidate for president. The men have a spirited discussion about drug treatments for AIDS. Henry marvels about the advances in science in combating the disease, while Jasper (David Mattar Merten) is enraged at the years of inaction from the Reagan administration in addressing the epidemic.
The sense of alienation and despair experienced by minorities during the previous presidential administration is also laid bare.
Tristan (Tobias Wilson), who reveals he is HIV positive, informs Eric of his plans to move to Canada. Eric pleads with him to stay, noting America needs him. The scene is very well-played by Wilson, making his Trinity Rep. debut.
As with Part One, director Joe Wilson, Jr. beautifully stages the action.
The set design by Michael McGarty and James Horban's lighting are also effective in highlighting the torment in these men's lives.
"The Inheritance, Part 2" is filled with plenty of humor and heart throughout its 3 hour run time. It's a long road but the payoff is worth the trip.
The Inheritance, Part 1 runs through November 5. Part 2 runs from Sept. 22 through Nov. 6. Trinity Repertory Company. 201 Washington Street, Providence. For tickets, call 401-351-4242 or visit www.trinityrep.com.