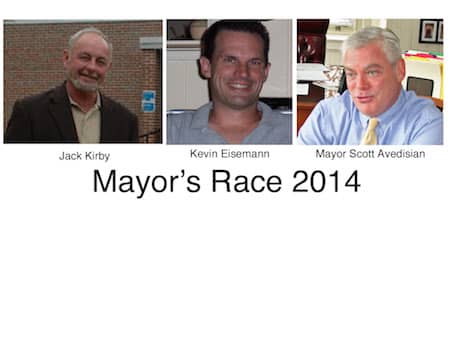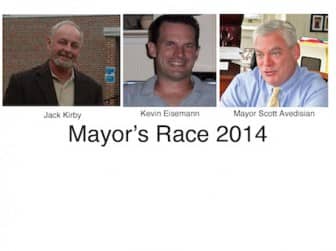 Editor's note: The candidates profiled below have been listed in alphabetical order.
Warwick, RI – Voters have three choices come Tuesday, as independent Kevin Eisenman and Democrat Jack Kirby aim to unseat long-serving Mayor Scott Avedisian.
Avedesian
As in the Sept. 9 primary, Avedisian, a Republican and Warwick's longest-serving Mayor, is running on his record. Avedisian — first elected in February, 2000, after then-Mayor Lincoln Chafee was appointed to fill the rest of his father's Senate term — has highlighted the city's sound financial standing.
"I just keep working to get the message out," Avedisian said.
With the exception of one pension fund, Police/Fire Pension 1, unfunded for a number of years prior to Avedisian's first term, the city's pensions are the highest rated in the state. Avedisian said Police/Fire Pension 1 is now 18 years into a 40-year payment plan, and the remaining plans are the only ones in the state considered "Tier 1.″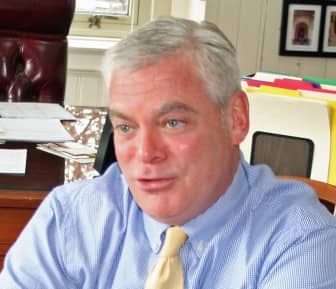 Avedisian said he'd like to see the Apponaug Circulator Project, in the works for more than 40 years, through to its conclusion during another term. He said he's looking forward to the day the work will open downtown Warwick to the coastline again, and make the area more pedestrian friendly and easier to live, work and do business in.
The Mayor also noted several economic development wins for the city, including recent announcements from SESA, an electronic highway sign manufacturer in Smithfield, used car dealer superstore CARMAX, Jared Jewelers, and Coastway Community Bank's moves to or expansions in Warwick. He also mentioned plans to bring 40-60 outlet stores to Rhode Island Mall.
In response to recent criticism from Councilman Edgar Ladouceur, who has been pushing for the council to reallocate budget funding to the paving budget, Avedisian noted that the councilman did not appear to vote with his convictions.
During the last City Council meeting, councillors voted to ask Avedisian to add $800,000 to the paving budget. During discussion of the topic, Ladouceur criticized the administration's move to divert $400,000 from an $800,000 Fiscal Incentive Plan (That line item paid for $1,000 one-time, non-recurring payment to all full-time employees in lieu of pay increases.) to the Potowomut Fire Station project.
Avedisian pointed out that Ladouceur voted for moving the funds to help pay for the new fire station.
"How can you say you want it for something else and still use if for something different?" Avedisian asked.
Eisenman
Independent Kevin Eisenman, 49, is running for mayor because, he said, "I really want to revive this city once again and make it much more attractive to new businesses and families that are thinking of moving here."
Eisenman has been a Warwick resident for 45 years, growing up in the Meadowbrook neighborhood. Now he owns a home in the Riverview neighborhood.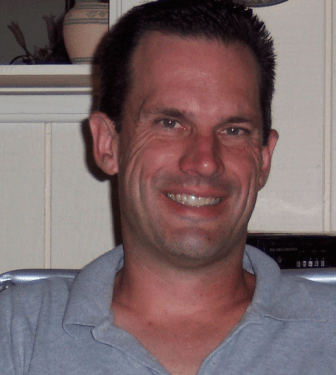 The independent challenger's primary goals are to lower taxes and repair the city roads "so we can attract new businesses and families to Warwick and improve our quality of life," Eisenman said.
Eisenman said he also wants to work with the school committee to improve schools and make them more efficient. He said he also hopes to cooperate closely with the city council.
Eisenman has pledged he'll mandate that Rhode Island Airport Corp. install sound barriers and noise and pollution monitoring equipment, as well as create a buffer-zone along the Lakeside neighborhood off Lake Shore Drive.
He has also promised a portion of his salary as Mayor several non-profit groups: The Westbay Community Action food pantry, the Boys & Girls Clubs of Warwick, the Gaspee Days Committee, and local neighborhood and village associations.
Jack Kirby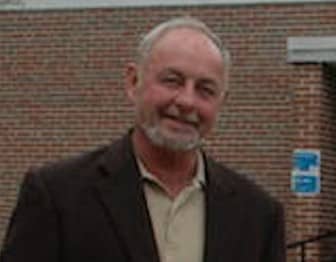 Perennial mayoral candidate Jack Kirby, 63, running for the Mayor's office for the fourth time in 2014.
According to a League of Women Voters profile, Kirby is a contractor, part owner of  Kirby Brothers Construction. This election, Kirby has received the endorsement of the Democratic City Committee.
"I'm running for Mayor because I think our city has become stagnant. We need change to move forward," Kirby said.
Kirby plans to limit tax increases by increasing fees to airport related vendors  (parking lots, car rentals, hotel fees).
When asked whether he thought that might have a detrimental effect, "I don't think increasing fees to airport related businesses will hurt the city. Warwick airport is located between New York City and Boston and patrons know what a convenience it is. Raising fees by a few dollars is not going to deter people from using TFGreen Airport," Kirby said.
He said he would also make the city more business friendly by lowering the tangible tax (tax on personal property that can be physically relocated, such as furniture and office equipment).
Additionally, Kirby said he will expand student opportunities through career and technical training and advocate for freezing residential property tax for seniors 65 and older.