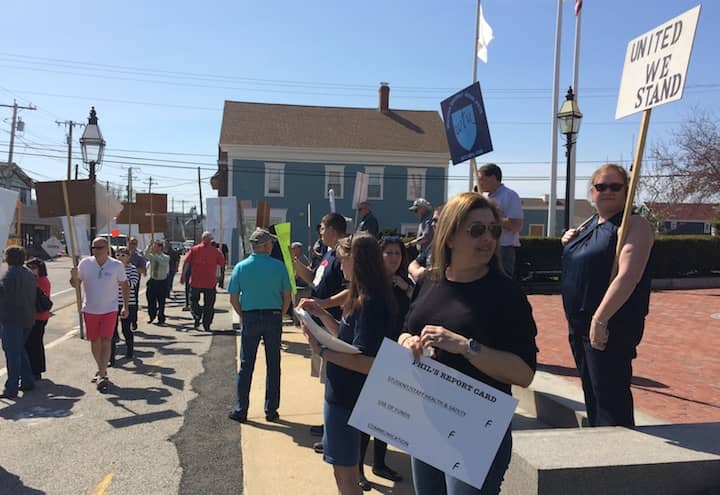 WARWICK, RI — A few hundred teachers picketed Warwick City Hall Tuesday afternoon from 2:30 till 4:30 p.m. to highlight complaints about poor working conditions and a lingering impasse on contract negotiations, which Warwick Teachers Union President Darlene Netcoh said has distracted Superintendent Phil Thornton from his duty to maintain safe schools.
Teachers walked in a long circle on the sidewalk in front of City Hall, occasionally chanting "Hey, hey, ho, ho, Doctor Phil has got to go," and bearing signs seeking Thornton's resignation. Netcoh said the official WTU goal is to convince Thornton to negotiate in good faith to settle with their union. Netcoh also said they want Mayor Scott Avedisian to use his influence to encourage a speedier resolution.
Tuesday afternoon, Avedisian announced he would remain involved as an advisor to both parties during negotiations.
"At various points during recent rounds of negotiations, I have taken on an active role in the discussions between the two parties, most recently sitting in on current mediation sessions. Despite having no legal authority to negotiate a contract resolution I have, and will continue, to work with both parties to reach an agreement in an amicable manner."
Avedisian said he has no authority over either party, and can only advise. He added he finds the timing of the protest odd, since the day before the parties had settled on the next date for mediation and are about five weeks from the arbitration decision.
When asked for comment about the protest,  Thornton replied with a statement announcing the mediation date is May 12, 2017. "We would also like to thank Mayor Avedisian for donating his time to assist in the mediation process.," Thornton said.
Netcoh said that while teachers have been abiding by the the 2014-2015 Collective Bargaining Agreement, Thornton and the Warwick School Committee have chosen to use its expiration as an opportunity to treat teachers as they like while negotiations continue. Netcoh said Warwick Schools have spent thousands of dollars on interest arbitration, court actions, and legal fees to law firm Brennan, Recupero, Cascione, Scungio & McAllister, LLP to fight the teachers' union.
"These dollars should have been spent on educating our students, responsibly consolidating the secondary schools, and settling a contract," Netcoh said. The fight has also distracted Thornton from critical areas of his job, including school safety, Netcoh said.
"I don't think he's focused on either, to tell you the truth," said Dean Johnson, a candidate in 2014 and 2016 for the Warwick School Committee against incumbent Eugene Nadeau.
Johnson said he doesn't agree with the School Committee's treatment of teachers during the contract negotiations. He said he feels the school department figures it's better off without a contract, since it allows them to treat teachers as they see fit.  On Feb. 2, RI Superior Court Judge Bennett R. Gallo overturned the State Labor Relation Board's order that the Warwick School Committee must honor the expired Teachers Union (WTU) contract. Johnson said he doesn't agree with the School Committee's strategy, but it explains what many see as a reluctance to quickly settle the dispute. Warwick Schools' administration must settle with teachers on a contract right away, he said.
"We remain just as interested as the Union in reaching an agreement on a new contract," Thornton said.
"While I do not have the authority to apply pressure to any party involved in hopes of spurring an outcome, I have urged everyone to remember the needs and quality of education that our students deserve," Avedisian said in his statement.
Matt Hodge, a history teacher at Toll Gate High School, said a consequence of the district's free rein in working conditions is  evident in his classroom where he teaches 28 students, 60 percent of whom are special education students, with no special education teacher. In the previous contract, language limiting classrooms to 23 percent special education students would've been the norm, which is better for special education students. "In the prior contract, we had language to protect students," Hodge said.
When asked how confident he is that safety is being well managed at school buildings in light of the month-long wait to inform parents about broken fire alarms, and news that expired fire extinguishers have been left unaddressed at Winman Jr. High for two years, Hodge was not optimistic.
"I saw what happened at the other buildings. I don't have any confidence," that the administration will be on top of safety in the other schools, Hodge said.