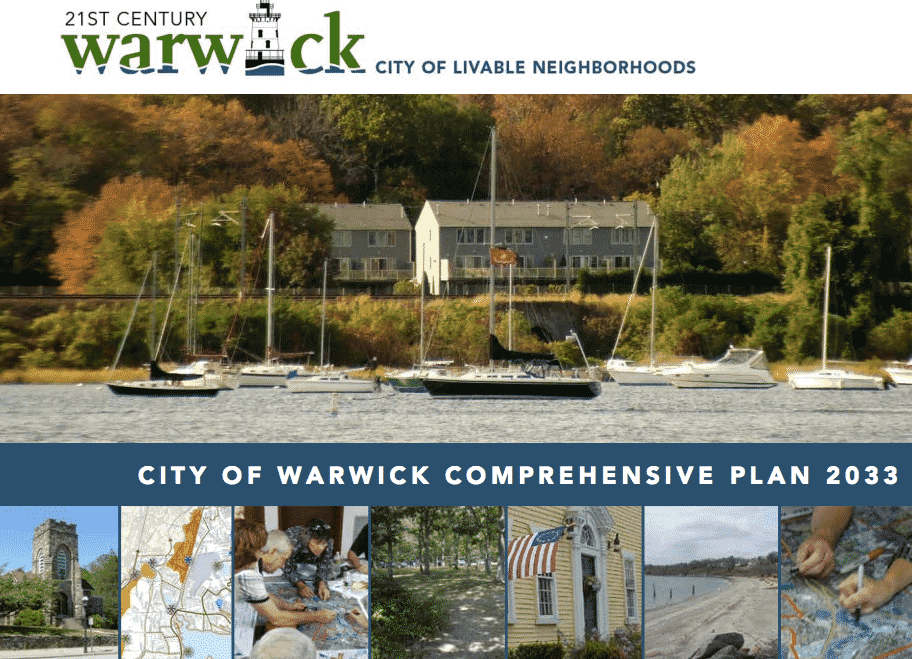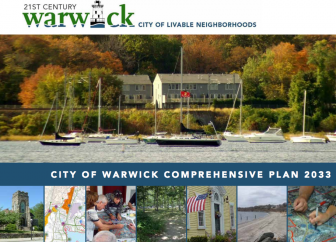 Warwick, RI – The RI Division of Planning has approved Warwick's Comprehensive Plan, the first full update of the city's planned progress in 20 years.
The plan, "21st Century Warwick: City of Livable Neighborhoods," provides citizenry-informed guidance on preserving and cultivating Warwick's natural, historic and cultural resources, open space and recreation, housing and neighborhoods, economic development, transportation and circulation, services and facilities, land use, and "resilience," an element focusing on how best to adapt to increased hazards from flooding and other potential impacts of climate change.
The plan's counsel includes focus on mixed-use and transit-oriented development, connecting neighborhoods to parks, schools, villages and shopping with "green corridors" of designated routes for walking and bicycling, and continuing work with the Rhode Island Airport Corporation to mitigate the environmental and other impacts of T.F. Green Airport.
The plan took advantage of current technology, including a dedicated web presence and online surveys combined with public meetings at the neighborhood and city level, to give Warwick citizens ownership of the plan. About 700 people participated in the Comprehensive Plan Survey alone.
"Our goal was to develop a thoughtful, 20-year strategic plan that would establish a framework for socially-responsible, sustainable growth and development," said Interim Chief of Staff and Planning Director William J. DePasquale, Jr. "The process provided a great opportunity for Warwick's citizens and the business community to discover and help shape a plan that will improve the overall health, welfare and success of our community. The final product reflects the input of many diverse groups who are invested in Warwick's future prosperity, and I thank the many volunteers, citizens and business people who attended a myriad of meetings over the past several years."
"The state approval of the Comprehensive Plan is a testament to the hard work of all who were involved in this process," said Mayor Scott Avedisian. "The Planning Department – under Bill DePasquale's leadership – worked extraordinarily hard for months to develop the plan.  I am very proud of everyone's work and grateful for their efforts."
Development of 21st Century Warwick began about two-and-a-half years ago, and was paid for in part with funding from the Statewide Planning Program's Planning Challenge Grant Program.
The final plan is available at the Warwick Public Library, 600 Sandy Lane, the Planning Department, located on the second floor of the City Hall Annex, 3275 Post Road, and online at warwickcompplan.com.