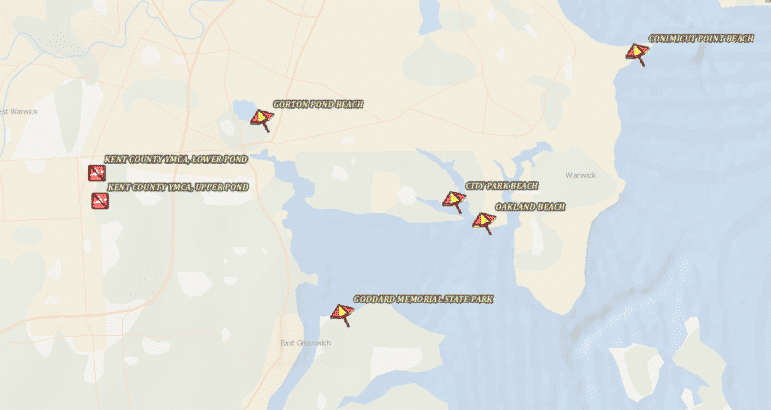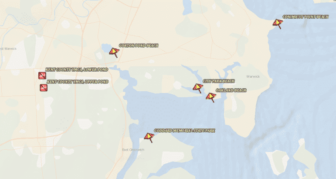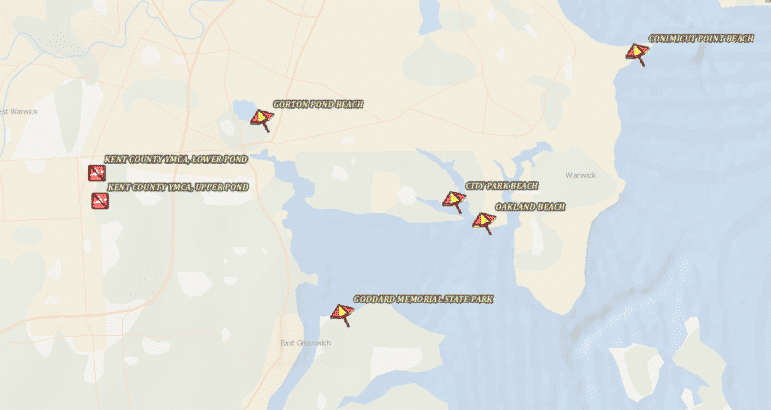 UPDATE July 24: RIDOH reports bacteria counts at Ginny-B Campground Beach in Foster and Kent County YMCA Beach in Warwick have fallen to safe levels for swimming.
UPDATE July 21: RIDOH has reopened several beaches as bacteria counts have diminished to safe levels for swimming, including three Warwick beaches.
The beaches now safe for swimming include:
City Park Beach, Warwick
Conimicut Beach, Warwick
Oakland Beach, Warwick
Third Beach, Middletown
Peabody's Beach, Middletown
Sandy Point Beach, Portsmouth
Warren Town Beach, Warren
Camp Ruggles, Chepachet
Marion Irons, Glocester
Camp Watchaug, Charlestown
RIDOH is also recommending the closure of Kinston's Camp in Kingston due to high bacteria levels.
UPDATE July 20: RIDOH has reopened Goddard Memorial State Park Beach for swimming because bacteria counts have returned to safe levels.
UPDATE July 19: RIDOH has added Ginny B's Campground in Foster to the list of closures and re-opened Barrington Town Beach in Barrington.
WARWICK, RI — Numerous Rhode Island Beaches, including Goddard Park, Oakland Beach, Conimicut Beach and City Park Beach, have been closed due to high bacteria counts.
These closures are in addition to the beaches at Kent County YMCA, which were closed due to bacteria levels on July 13 and remain closed.  This will make the fourth time that both Conimicut Point Beach and Oakland Beach have been closed this year due to bacteria.
Today, the Rhode Island Department of Health (RIDOH) has recommended closing 13 beaches because of high bacteria levels:
Goddard Park, in Warwick
Oakland Beach, in Warwick
City Park Beach, in Warwick
Conimicut Beach, in Warwick
Barrington Town Beach, in Barrington
Warren Town Beach, in Warren
Sandy Point Beach, in Portsmouth
Peabody's Beach, in Middletown
Third Beach, in Middletown
Lincoln Woods Beach, in Lincoln
Marion Irons Beach, in Glocester
Camp Ruggles, in Scituate
Harmony Hill School, in Chepachet
The health department routinely checks city and state beaches for high levels of bacteria in the water. Beach closures are announced with bacteria levels exceed more than 60 cfu/100 ml ((colony forming units per 100 milliliters) of Enterocci bacteria in saltwater and in freshwater. The beach's status can be monitored at the DOH website.
RIDOH will continue to monitor and review beach water quality through Labor Day. The status of a beach may change as new data become available. The most up-to-date beach information is available through a recorded message on RIDOH's beaches telephone line (401-222-2751). A list of closed beaches can also be accessed at health.ri.gov.
The status of a beach may change as new data become available. The most up-to-date beach information is available through a recorded message on RIDOH's beaches telephone line (401-222-2751). A list of closed beaches can also be accessed at https://health.ri.gov/data/beaches/