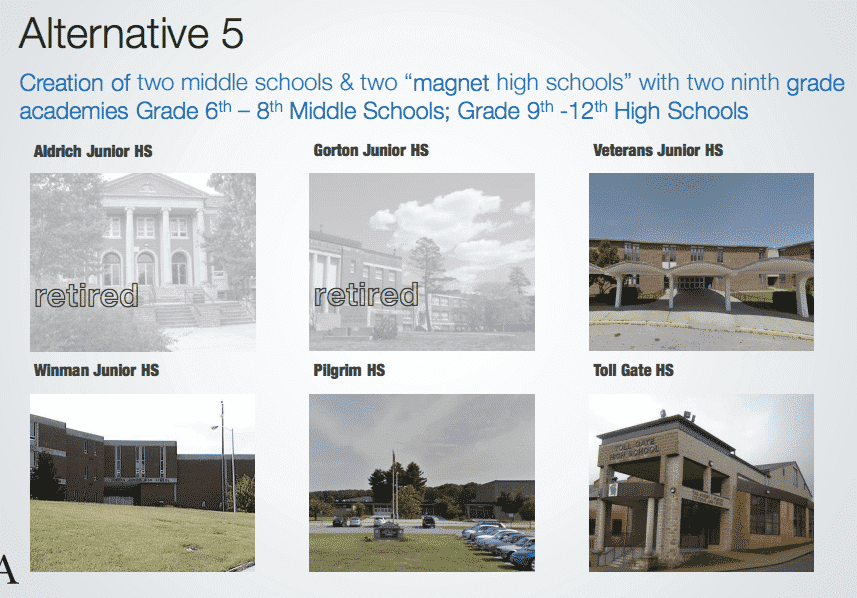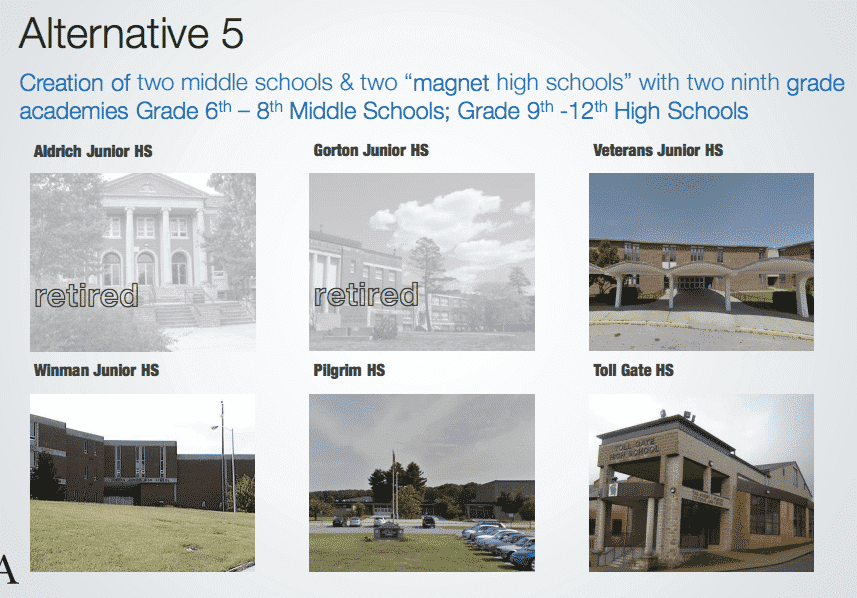 Warwick, RI – The Warwick School Committee voted 4 to 1 for school consolidation option 5 Tuesday night, fating Warwick Veterans Memorial High School to conversion to a middle school and closing Aldrich and Gorton Junior High Schools, saving the district $4.5 million annually.
That's a lot of money," noted Superintendent Richard D'Agostino Thursday morning. He said the savings, which Mayor Scott Avedisian has pledged to keep within the school department, could be used to fund the Chromebook initiative Warwick Public Schools pleaded for during this year's budget hearings.
Under that plan, every Warwick Public School student would receive a Chromebook they'll carry for three years, switching out at Third to Fourth Grade, Fourth to Seventh Grade and Seventh to 10th Grade. To do that, the School Department asked for $3,138,235, for the hardware, software, and training for teachers.
That would still leave about $1 million of the annual savings for the district to invest in programs and equipment, D'Agostino said.
Option 5 consolidates Warwick Vets students into Pilgrim High School and Tollgate High School, repurposing Warwick Veterans Memorial as a middle school.
Aldrich Junior High and Gorton Junior High Schools would be closed, with those students being sent to the repurposed Middle School at Warwick Veterans Memorial. Sixth graders would also be sent to the new middle school, and to Winman Junior High, which would then also be converted into a middle school.
D'Agostino said the exact timing still needs to be worked out, but Warwick Veterans Memorial High School will be closed in September of 2016. The savings realized from consolidation will begin to take effect at that time, he said.
The dissenting vote Tuesday came from School Committee member Karen Bachus, who preferred Option 7, which would've kept all three high school buildings open, renovating them to house middle school students as well as high school students.  The plan would've required $30 million to separate the middle and high school students, D'Agostino said.
School Committee member Eugene Nadeau said he voted for option 5 because the option 7 wouldn't close any schools. Nadeau referenced the school capacity study performed by SMMA consulting, which showed about 40 percent of the schools were under-used due to declining enrollment.
"That's far too big a percentage to operate a school department efficiently," Nadeau said.
Previous consolidation plans were based on assessments that didn't take the elementary schools into account, Nadeau said, but the latest from SMMA did, lending the plans based on it more weight in his eyes, he said.
The assessment said Warwick Schools could close as many as 6-8 schools, Nadeau said, with the announced closures among that count. Once the sixth grade is incorporated into the new middle schools, he said, it will be time to take a look at consolidating the elementary schools as well.
The closed junior high schools, owned by the city, will return to city management, Nadeau said.