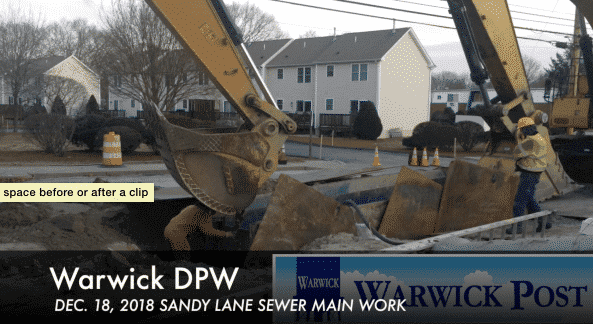 WARWICK, RI —  DPW crews were expected to continue work this week with an end to repairs on a collapsed sewer line on Sandy Lane near,  but have discovered another 600 ft. of pipe in danger of collapse.
Inspections revealed another 600 ft. of pipe on Sandy Lane is also at risk of failure.  The Warwick Sewer Authority is evaluating the situation, including cost of repairs. Crews are already mobilized at the site, according to the department. 
The department reported traffic detours have been effective in helping crews effect repairs more quickly.  The initial 155 foot section of collapsed pipe has been replaced, and manhole work will begin on Wednesday, the department reported. 

There will be no work until Wednesday, Dec. 26, according to the DPW. 
On Dec. 18, DPW Director Mat Solitro took some time to describe the bypass work for the project, which faces complications including a water line, natural gas line, house sewer pipes and other utilities crews must work around to make the repairs. 
A traffic bypass through Armory Street was expected to be in effect this week.
Additional project updates will be provided at: 
• The City's website, warwickri.gov
• Via the police department's Facebook and Twitter accounts
If you are experiencing a problem related to the sewer line collapse and its repair, call the WSA's main number at 739-4949.