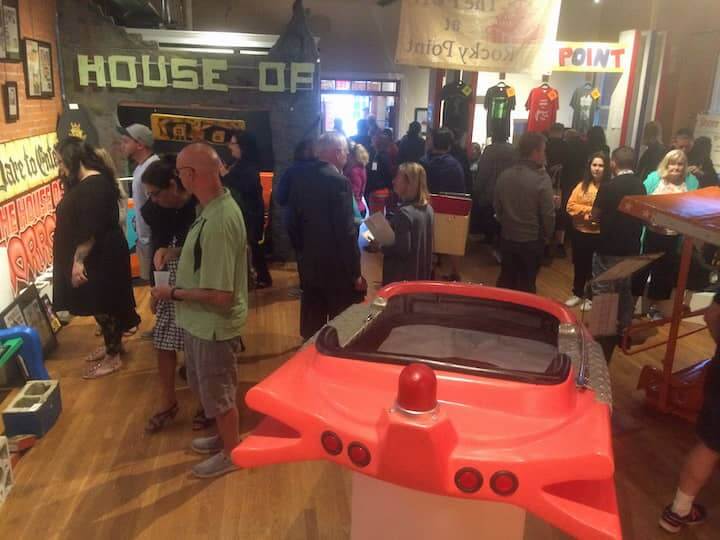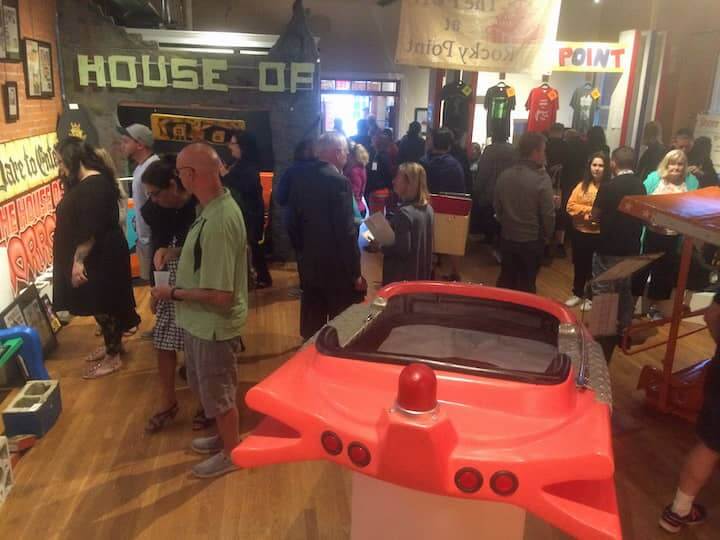 WARWICK, R.I. —  When  Warwick Center for the Arts' "Remembering Rocky Point Park!" exhibit started its opening reception Thursday at 6 p.m., there was a line at the door, and the building was quickly filled to capacity with avid Rocky Point enthusiasts.
An hour later, volunteers were still lining up, waiting for the people ahead of them to leave, creating enough room inside.
"We had a line before six," said David Brunell, a member of the WCFA's Board of Directors, who was managing admittance to the venue with fellow board member Stephany Hessler and Tyler McKenzie, who were each handing out popcorn to the crowd. "We're at capacity right now."
Inside, people moved with little elbow room as they took in memorabilia from the former amusement park.
"It's bringing back a lot of memories," said Keith Fracassa, 44, of Coventry, who visited the park in the 1980s as a kid. He said he thought of the House of Horrors, the Flume, and his favorite attraction, the Music Express, which turned riders around a centrifugal circle while rock music played from speakers. Fracassa said the concerts held at the park were also a treat. He said he saw Weird Al Yankovic for the first time at the park
"It's a great trip back in time," Fracassa said of the exhibit.
Leon Femino, 55, used to visit the park in the 1970s and 1980s. Femino said he paid close attention to the park during its decline, and took a lot of photos of the site after it closed and fell into disrepair. He remembers seeing many of the items on display at the exhibit. He pointed out the Rocky Point branded beverage cups, napkins and clam cake bags.
"You would never think it was a momento. It was just a throw-away," Femino said.
"I would go to Rocky Point at least once a month," said Alvaro Resende, 58, of Coventry, once a West Warwick resident.
"My first rollercoaster ride of my life was the Corkscrew," said Ariana Raphael, 38, who grew up in Scituate and now lives in Coventry. She said her father took her for that first trip to Rocky Point and her first rollercoaster ride, when she was 7-years-old, she said. The Corkscrew is still operating, Raphael said, at an amusement park in Washington State.
Eileen and Joel Kirshenbaum chatted briefly with Sean McCarthy, curator of much of the exhibit and a Rocky Point historian.
Eileen said she remembers bringing her kids to the park, but didn't go when she was a child herself.
"I did," offered Joel. Their son, Steve, used to work there, they said, at the cotton candy stand.
"He used to come home so sticky," Eileen said.
The couple was making the evening a Rocky Point themed event.
"We already ate at the Rocky Point stand tonight, so we're going to keep the theme going," Eileen said.
James Merida and his son, Jobe, were reviewing Rocky Point art at the back of the room. James and Jobe reminisced about their visits to the park following its rebirth as a state park and walking path.
"Maybe someday something else will happen," at the park, James said.
The exhibit, which runs through June 27,  is free and open to the public.