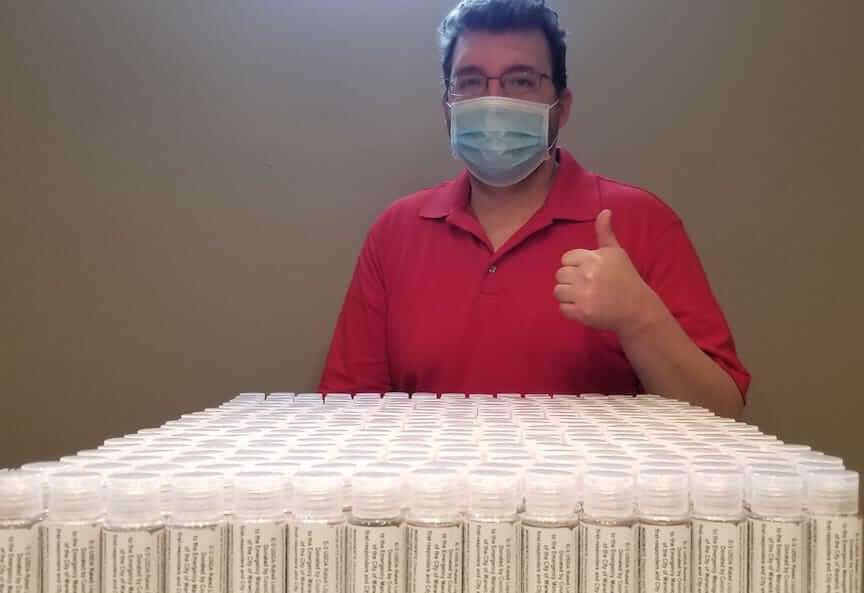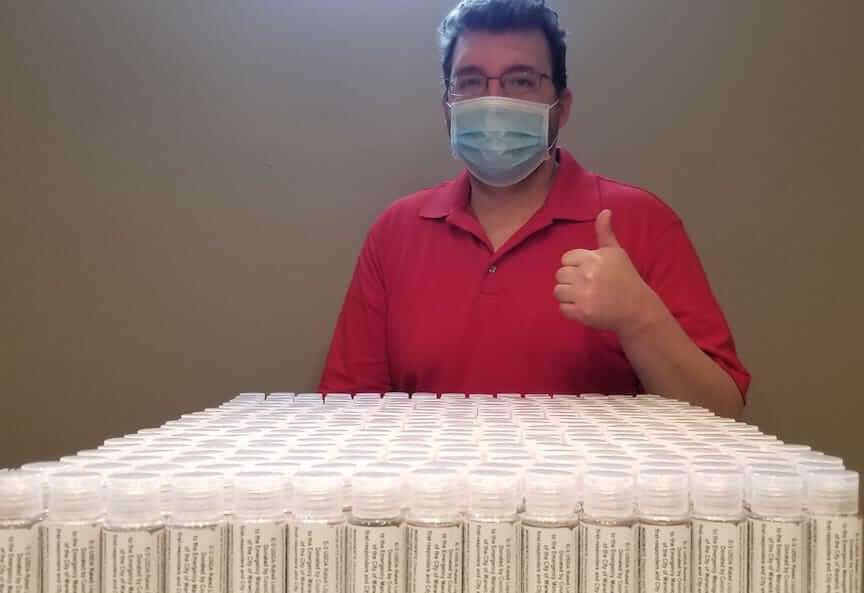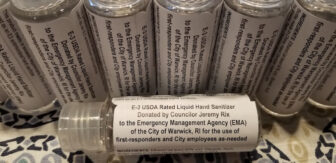 WARWICK, RI — Warwick City Councilman Jeremy Rix (Ward 2) has donated 300 two 2 oz. bottles of E-3 USDA Rated hand sanitizer to Warwick's Emergency Management Agency (EMA) for the City's first-responders and employees.
"We are all working to help people through COVID-19, and my fiancée Monica and I feel like this is a way that we can do our part," Rix said
Rix said he had been working on a plan to find and donate hand sanitizer when shortages started in March.
"I reached out to contacts from Warwick to California, and even negotiated with a manufacturer in China to purchase thousands of
2 oz flip-cap plastic bottles that I couldn't find anywhere else.  But, we couldn't have done this without the help of the owner of Suburban Pharmacy, right here in the Norwood neighborhood of Warwick, who helped me track down this made-in-the-USA hand sanitizer."
Nick Shanos, pharmacist and owner of Suburban Pharmacy, said the liquid sanitizer was "extremely" difficult to source, but easier than gel sanitizer, which is in even higher demand. When he did locate a supplier, about six weeks ago when Rix asked for his help, they had to wait for the company to make the sanitizer.
Shanos said he had originally planned to make the sanitizer for Rix, but couldn't source the materials, and had to begin looking for a company that would supply it. When the sanitizer was delivered in gallon containers, it was up to Rix and Monica to separate it in to the smaller bottles. Shanos said Rix and Monica had worked out how quickly they could re-bottle the sanitizer.
"It was pretty cute," Sanos said, "I gave him a little apparatus and I was able to speed them up." Shanos didn't elaborate on the process, but he said the speedy processing is something of a personal challenge for him.
Shanos said he has also helped members of the community, mostly medical workers, source KN95 masks (the Chinese equivalent to the N95 mask), gloves, pulse oxygen meters and has even sourced toilet paper for some.
"Whatever the community needs to help stay safe," Shanos said.
Next, Rix said, "I am sending about 3,000 letters to households across Ward 2 with an offer to drop off (no contact) a free bottle of hand sanitizer to any household here in Ward 2 that requests one.  Ward 2 residents can email me at [email protected] with their name and address, and I'll get back to them ASAP with a date for the delivery.  It takes a lot of time and money, but it's all worth it if we can get hand sanitizer to those who need it and do what we can to fight the spread of COVID-19."
"Thank you also to State Rep. David Bennett, who is teaming up with us in getting the word out to constituents in the area we share."  Rix continued, "It takes a team to reach out to thousands of people and deliver results."