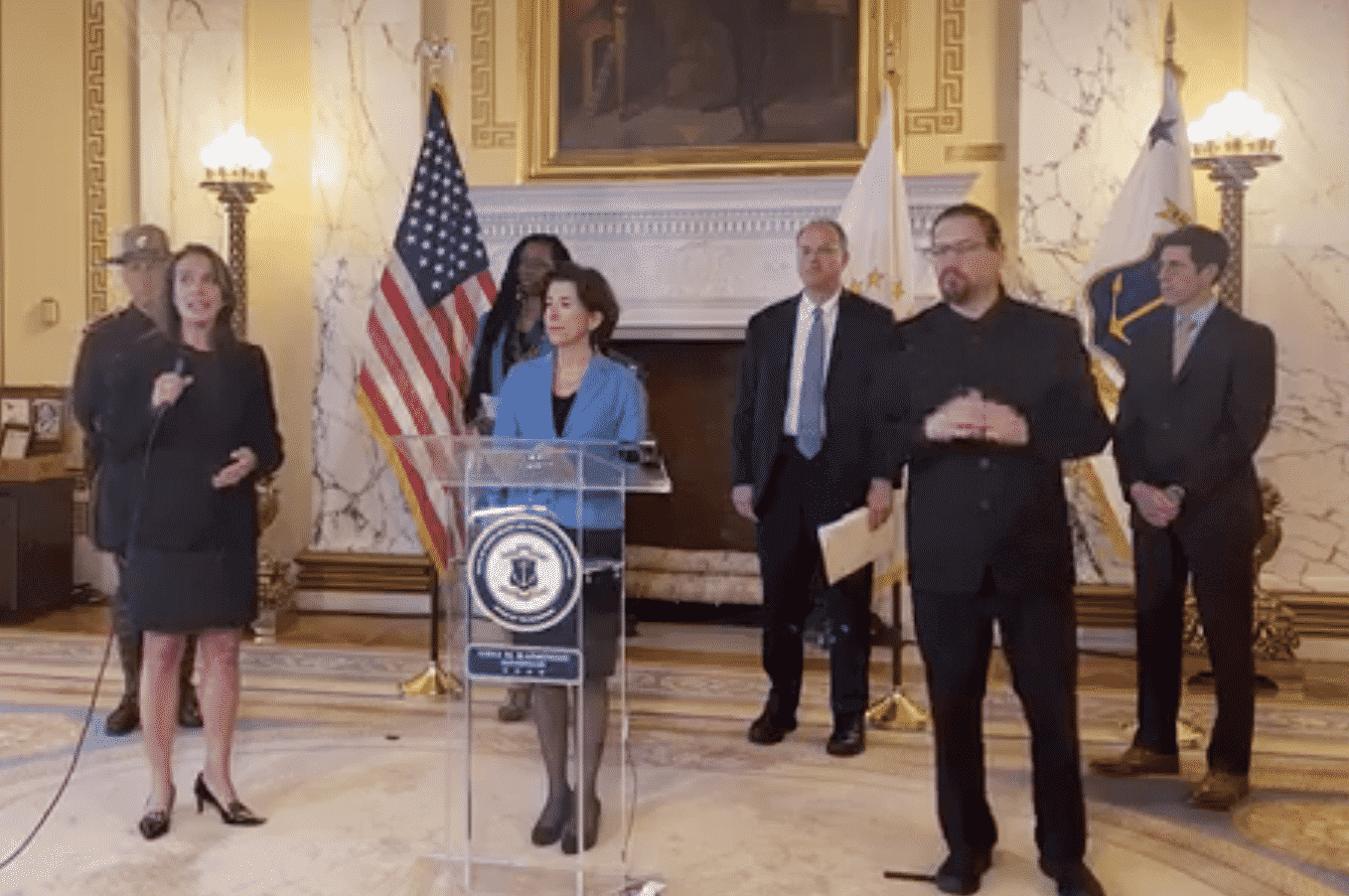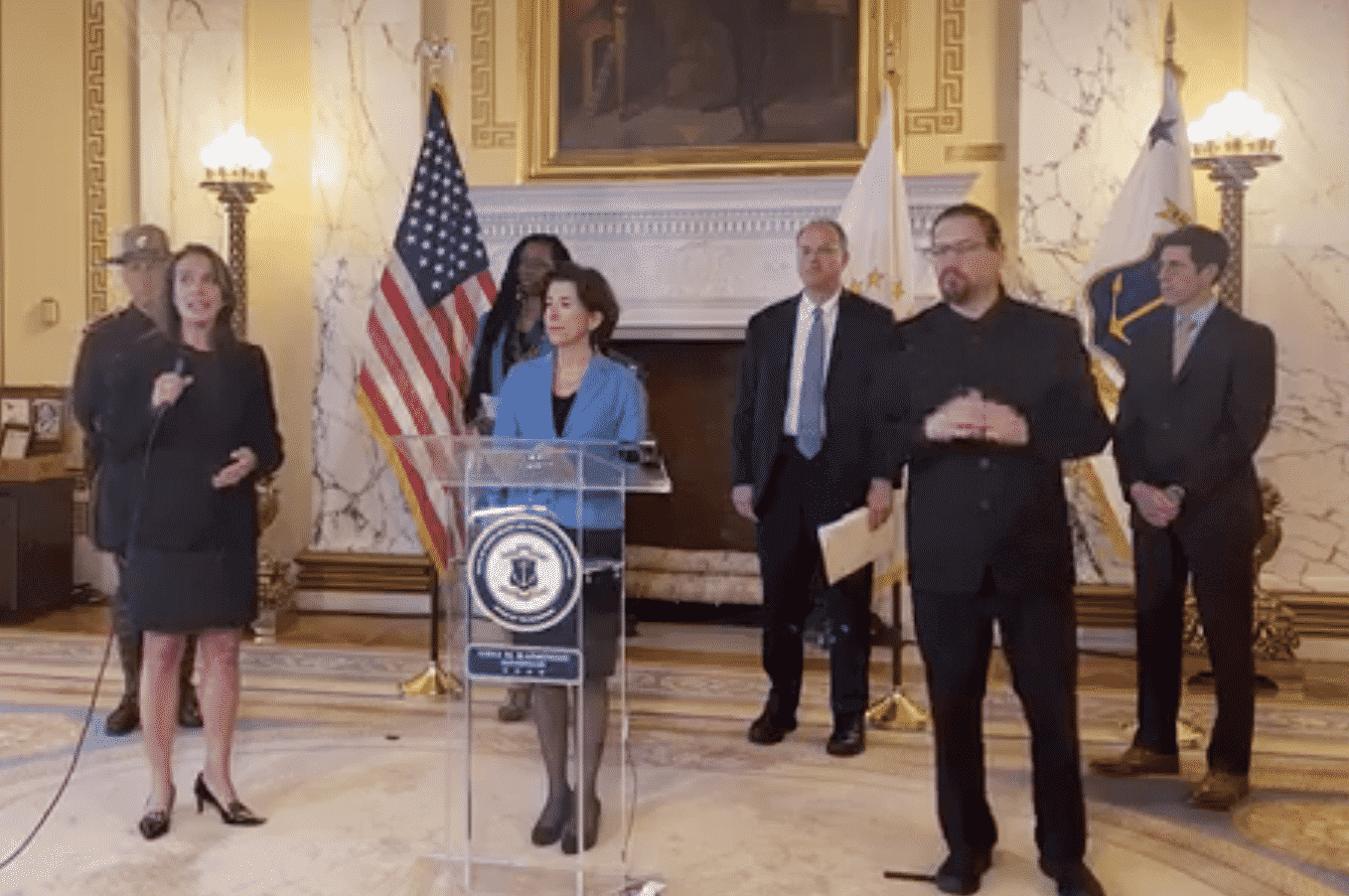 Editor's note: This article and and most of our COVID-19 related news is free to the public to ensure people have access to life-saving information. If we've helped you, and you're able to help us, we would appreciate your subscription for either $1.50/month or $15 per year.
PROVIDENCE, RI  — Thursday, Gov. Gina Raimondo announced RI Troopers would begin stopping and screening commuters from the New York State, a COVID-19 hot spot.
She also asked manufacturers for help sourcing or making ventilators, a key medical tool in treating critical COVID-19 patients.
Wednesday, Raimondo pointed to the situation in New York, with 30,800 cases,  noting she is aware that New Yorkers are moving from that state into Rhode Island. "We are looking at how many people are coming to Rhode Island from New York, via bus, via plane, etc.," she said.
Anyone from New York, or any state, should be self-quarantining upon entering Rhode Island, "Because of the situation that's going on in New York," Raimondo said at the time. Today, Raimondo put some steel in that advice at her daily State House press conference by announcing an executive order to that effect. The order has the added support of the RI State Police, which will be screening passenger vehicles with New York plates and informing people staying in RI that they must self-quarantine for 14 days.
"This will not affect interstate commerce in the state of Rhode Island," RI State Police Col. James M. Manni said.
Starting Friday, he said troopers will begin stopping passenger vehicles in RI with NY plates. During stops, Troopers will ask where the people are going and if they are passing through the state, troopers will send them on their way, he said.
"If someone with a New York registration is coming to stay in Rhode Island, whether they are renting a home, own a home or staying with family and friends, we will ask them for their identification and RI address," then ask them for their contact info and let them know they need to quarantine for 14 days while they stay in Rhode Island, he said.
"This is an unprecedented event in our history, and I want to ensure the public that Rhode Island State Police are engaged to protect public health and public safety. We fully realize there's a tremendous amount of stress and anxiety associated with this crisis and I ensure everyone no matter which state you reside in, all troopers will be professional, polite and treat everyone with dignity and respect," Manni said.
Six Rhode Islanders with COVID-19 in ICU, on ventilators
Director of Health Nicole Alexander-Scott said 23 of Rhode Island's COVID-19 patients are hospitalized, nine of them in ICU wards. Six of those nine are intubated and on ventilators, which help them breathe as their bodies fight the coronavirus that causes COVID-19, for which there is no immunity, no vaccine, and no proven drug treatment.
Rhode Island's total stock of ventilators used for the sickest COVID-19 patients is 200, according to Alexander Scott's earlier report. Ventilators are also used for some surgeries and are sometimes needed for other medical conditions, according to healthline.com.
There is also no widespread testing for the virus yet available, although the state is working to increase testing capacity so positive cases of the disease can be effectively managed and prevented from further spread.
Meanwhile, Alexander-Scott said it's crucial that people experiencing respiratory illness stay at home and consult with their doctor on recovering there if their symptoms are mild. Most people with respiratory illness symptoms will be able to stay at home and will recover, Alexander-Scott said.
Do not leave house, even for essential needs, if you are quarantining yourself with respiratory illness. "Then you can have someone do that for you," Alexander-Scott said.
If symptoms worsen, call your doctor or nearby urgent care center, Alexander-Scott said. Do not show up unannounced. Officials want to make sure you get care that you need while protecting health care workers.
Ventilator search, production help needed
"We are in particular need of assistance with ventilators," Raimondo said.
Raimondo said that of all the challenges the state faces in sourcing and producing medical equipment necessary to test and treat cases of COVID-19, "Right now the hardest piece of is is finding all the ventilators that we predict we may need," Raimondo said.
So, she asked any manufacturers who may be able to help the state find or manufacture ventilators, "Please reach out to us as soon as you can."
Manufacturers can reach state officials with offers to help at 401-521-HELP or by filling out the the RI COVID-19 donation form.
Raimondo also said PPE such as gloves and protective gowns are proving easy to produce and secure locally. Medical N95 masks are proving much more complicated, however. "So we haven't yet found a local source for that."
Stefan Pryor, RI Secretary of Commerce, said manufacturer Sentec, which recently located a regional office in RI, is helping to source ventilators for the state.
Businesses/restaurants
Raimondo said that all employees at the remaining businesses operating in the state, including at restaurants, should be screened for illness every day. Owners must be alert for signs of illness in work place, she said.
"We want to thank restaurant owners, managers and staff, because they are being extremely vigilant," she said.
Takeout, retail customers: Don't congregate in lines
Alexander-Scott warned people who wait for take-out not to line up near each other waiting for food. Instead, she suggested following the example of restaurants that are asking customers to wait in their cars for a call letting them know to come pick up their food when it's ready.
"That is a great way to handle it," she said.
COVID-19 health notes/reminders
Because it attacks lungs, COVID-19 could be a more serious threat to people who smoke tobacco, marijuana or those who vape. Free smoking-quitting resources are available at 1-800-QUIT-NOW.
Flu shots are important to help preserve hospital capacity for potential COVID-19 cases. Flu is less likely to hospitalize vaccinated people.
Wash your hands frequently, especially after returning from a short trip, blowing your nose or before eating.
Frequently wipe down commonly used surfaces such as counters, doorknobs, railings, counters, cabinet handles and faucets.
Call your doctor before visiting if you need non-emergency medical attention so they can instruct you on the safest way for you to receive care.
Stay home if you are feeling at all unwell.