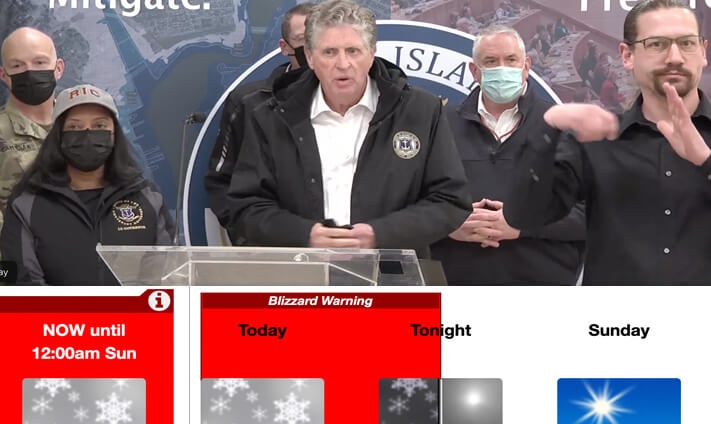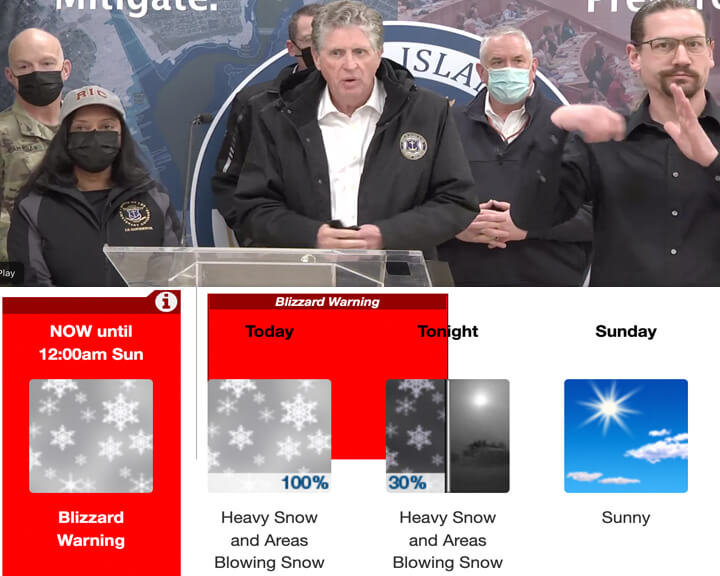 PROVIDENCE, RI  — RI is under a blizzard warning today, with a travel ban and state of emergency declared as emergency crews prepare to keep roads open and power running.
Governor Dan McKee, Lt. Governor Sabina Matos, and emergency officials will hold a public briefing today at 9:30 a.m. to provide updates on storm response. Yesterday, McKee provided a preview of the state's preparations, noting he'd been in touch with all 39 cities and towns about their efforts.
"So we're ready for this storm, and we need Rhode Islanders to be ready, too." Which means staying indoors and off the roads while emergency crews work, he said. "The best way to handle the storm is to stay home tomorrow," McKee said.
While home, McKee urged Rhode Islanders to watch out for their neighbors and stay informed by following social media and news alerts about the storm.
RI Travel Ban, State of Emergency declared
Friday at 5 p.m., McKee signed an executive order declaring a state of emergency, allowing the state to access Federal Emergency Management Agency (FEMA) resources before and after the storm.
In an effort to help local Rhode Island communities and the state prepare for and respond to a potential blizzard, the state's Congressional delegation (U.S. Senators Jack Reed and Sheldon Whitehouse and U.S. Representatives Jim Langevin and David Cicilline) sent a letter on Friday urging President Biden to issue a major disaster declaration for Rhode Island, should the state require one, and to expedite any and all emergency assistance.
McKee has also declared a travel ban for vehicles on the state's roads from 8 a.m. – 8 p.m. and a travel ban for all tractor-trailers and motorcycles, except those carrying emergency supplies, from 6 a.m. – 11:59 p.m. today.
The Rhode Island Public Transit Authority (RIPTA) has also suspended all service in conjunction with the travel ban. RIPTA will announce when service is reinstated.
"Unless it is essential that you go somewhere, you must stay off the roads. Please give the plows a chance to work," Warwick Mayor Frank Picozzi wrote on his Facebook page Friday.
"This restriction will allow the Rhode Island Department of Transportation, as well as city and town departments of public works, to keep roadways passable and safe for emergency vehicles," RIDOT announced Friday.
"The latest forecasts call for snow starting shortly after midnight with snowfall rates of 2-4 inches per hour possible during the daytime hours. Combined with high winds, travel will be very difficult. All motorists are advised to plan ahead now to avoid travel on Saturday," RIDOT recommended.
"And if you encounter plows, do not pass them. The safest place in a storm is a safe distance behind plow trucks."
Strong winds, Lots of Snow
By noon, the National Weather Service expects temperatures to fall to 19 degrees, with north winds between 24 to 29 mph, and gusts up to 55 mph, and at least 19 inches of snow. The snow and 11 to 21 mph winds and gusts up to 34 mph, are expected to continue through 8 p.m., creating wind chill values as low as -5 degrees.
Warwick Parking Ban, Enforced
Mayor Frank Picozzi issued a parking ban for the city Friday, and the storm and the ban were both in effect, as he observed by 11:30 p.m. Friday night.
"It's been snowing moderately for a little while now and it started accumulating immediately. The roads are already quite slick. I've heard on my police radIo that some people are ignoring the parking ban but police are out enforcing it. If it's parked on the street it's going to get towed."
Warwick roads prepped, DPW crews ready
The city started pretreating roads Friday night, Picozzi reported via Facebook.
Main roads including Main Avenue, West Shore Road, Post Road, and Warwick Avenue, are state roads and are taken care of by the RIDOT.
"City main and secondary roads such as Sandy Lane, Tidewater Drive, Buttonwoods Ave., Jefferson Blvd., etc. are our responsibility and we treat and plow them. We plow neighborhood roads, but the city does not treat them.
"The plowing operation will most likely last several days. Initially the effort will be on keeping roads open for emergencies throughout the storm. Once the snow stops the focus will shift to widening roads."
"We are in great shape manpower-wise. All our vehicles are outfitted and ready to roll, however equipment failures are inevitable so our mechanics are ready."
Warwick Post Storm Center Info, Tips
"With this storm there is a potential for power failures. Should the need arise, we will be prepared to open up a shelter in the high schools," Picozzi said.
To reach the highway department to report problems call 401-921-9619, he said.
For emergencies you can call the police department at 468-4200, he added.
Emergency Alerts:
RIBA – Make sure you're signed up for text alerts from the Rhode Island Broadcasters Association. You'll get emergency notifications (including school closings and delays) direct to your phone or email.
CodeRED – The City of Warwick has instituted a new rapid emergency notification service called CodeRED®.  The system will distribute emergency messages via telephone to targeted areas or the entire City of Warwick. Register here.
TF Green Airport –  Click here to follow arrivals and departures at Green.
Emergency Calls:
In an emergency, dial 911
Police Department: 401-468-4200
Fire Department: (401) 468-4000
Highway Dept./Snow removal – 401-738-2000 ext. 6518
Do NOT call 911 to report a power outage. Contact National Grid at 1-800-465-1212. Smartphone users can also text STORM to NGRID (64743) for outage alerts. To check the status of outages in your area, visit  National Grid Outage Central for Rhode Island.
Serve RI is looking for volunteers to help neighbors in need shovel out after upcoming snowfall. You can sign up here.  You can ask for their help at at 401-331-2298. For all other needs, people should call United Way-2-1-1.
Listen to NOAA radio: Check the National Oceanic and Atmospheric Administration radio frequency here.
Safety Tips:
If you use a generator to supply power during an outage, be sure to operate it outdoors. Before operating generators, disconnect from National Grid's system by shutting off the main breaker located in the electric service panel. Failure to do this could jeopardize the safety of line crews and the public.
Natural gas customers should closely inspect areas around and over gas meters, service hook-ups and vents for debris that could damage equipment or prevent CO from properly venting.
If  you suspect a natural gas leak:

Get Out – All occupants should leave the house immediately. Do not use the telephone or light switches for any reason.
Call Us – After leaving the house and reaching a safe environment, call the National Grid 24-hour gas emergency numbers at 1-800-640-1595
Stay Out – Do not return to your home until National Grid tells you it is safe.
 Extreme Cold Tips
[CREDIT: NWS] The National Weather Service's tips for extreme cold in the car and in the home. Temperatures are expected to hover between the single digits and high teens this week.
The Red Cross has posted a number of personal and homeowner tips for dealing with extreme cold weather:
Avoid unnecessary exposure to the cold. Be aware of both the temperature and the wind chill when planning outdoor activities. When you prepare to go outside in severe cold weather, please remember the following:
Most of your body heat is lost through your head so wear a hat, preferably one that covers your ears.
Dressing in layers helps you retain heat. You can remove layers as needed if you become too warm.
Mittens provide more warmth to your hands than gloves.
Wear water proof, insulated boots to help avoid hypothermia or frostbite by keeping your feet warm and dry and to maintain your footing in ice and snow.
Get out of wet clothes immediately and warm the core body temperature with a blanket or warm fluids like hot cider or soup. Avoid drinking caffeine or alcohol if you expect you or someone you are trying to help has hypothermia or frostbite.
Recognize the symptoms of hypothermia that can be a serious medical condition: confusion, dizziness, exhaustion and severe shivering. Seek medical attention immediately if you have these symptoms.
Recognize frostbite warning signs: gray, white or yellow skin discoloration, numbness, waxy feeling skin. Seek medical attention immediately if you have these symptoms.
Snow clearing reminders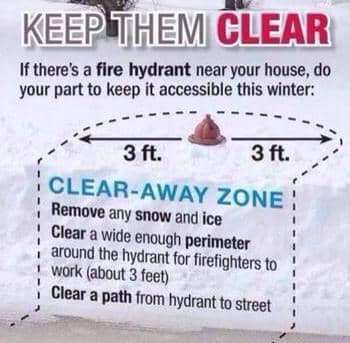 All that snow has to go somewhere, and it shouldn't stay on your sidewalks or pile up around hydrants:
Sidewalk ordinance City law Sec. 70-102, Removal of Snow Required states, "The owner, owner-designated occupant or any person having the care of any building or lot of land bordering on any street shall cause the snow to be removed from the sidewalk.""Violation of this section shall be punishable by a fine of $100 for the first offense and second offense."
Hydrant reminder While sidewalks are covered by city ordinance, local fire departments regularly ask the public's help in keeping fire hydrants clear of ice and snow.