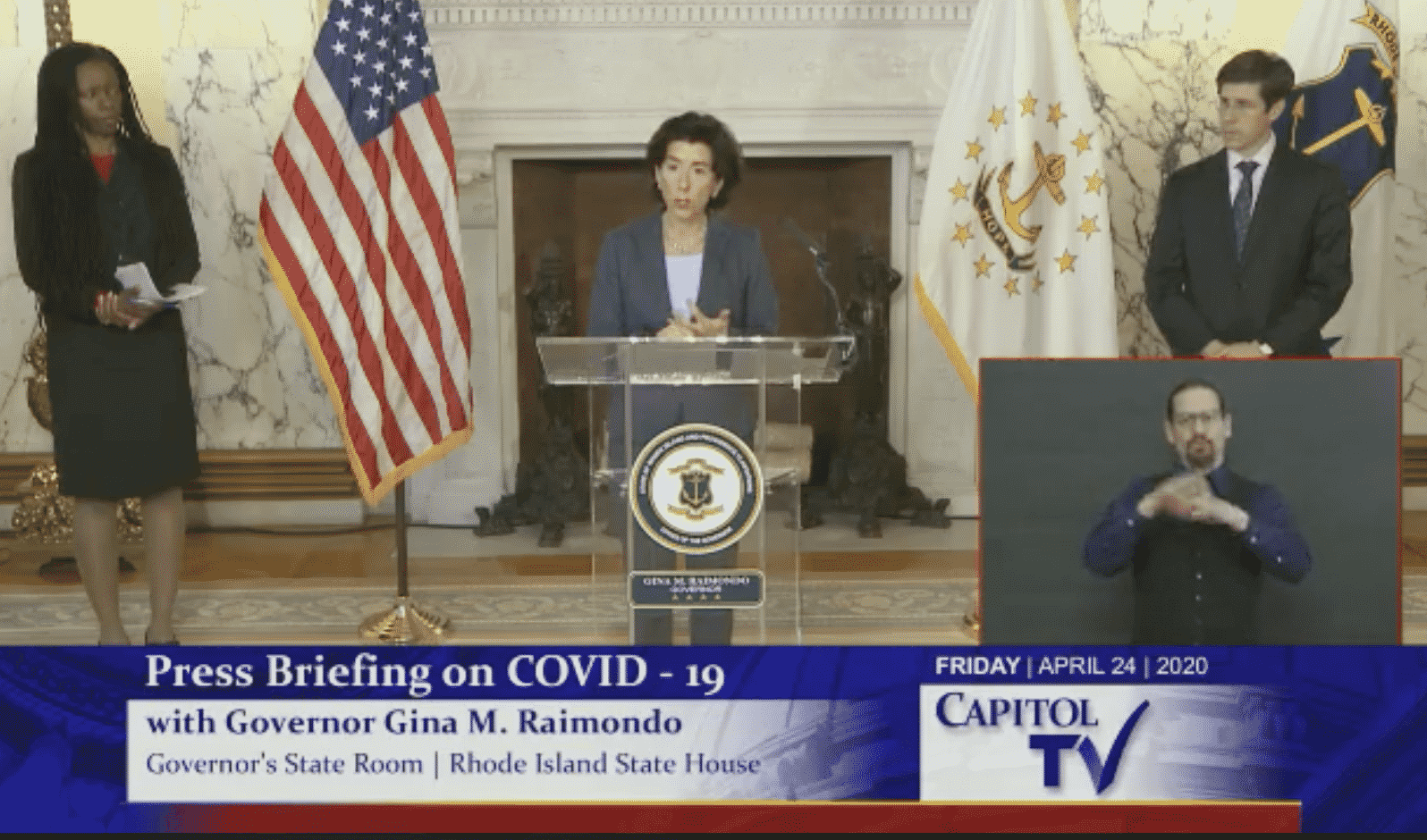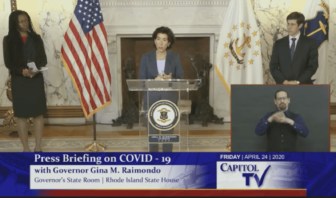 PROVIDENCE, RI — Rhode Island, smallest state with the biggest rep for COVID-19 testing, continues improving its game as positive cases of COVID-19, the disease caused by the virus, reached 6,699, with 202 deaths Friday.
At this point, said Gov. Gina Raimondo during her Friday COVID-19 press briefing at the State House, Rhode Island has tested about 4 percent of its population.
While RI has been lauded as the sole state performing the bare minimum of testing required before restarting economic and social activity shuttered to limit virus spread, Raimondo didn't linger on it long before announcing plans to expand testing in cities and nursing homes, including mobile testing teams.
"We now are looking at other options to reach vulnerable and homebound individuals," Raimondo said. Those options include more mobile testing to reach these populations.
While Raimondo praised the work done at walkup testing sites at the former Memorial Hospital in Pawtucket and Bailey School in Providence, where more than 100 people per day are being tested, "I want you to know we're going to do more of that," Raimondo said.
Specifically, she said walkup sites are needed in Cranston, Olneyville, Woonsocket, East Bay, and Central Falls.
"We're getting there faster than almost any other state in America," Raimondo said, but cautioned against mistaking progress as the end of the health care emergency. In Singapore, for instance, failure to care for that country's own vulnerable  population, immigrants, caused a relapsed COVID-19 outbreak.
"We don't want to be there," Raimondo said.
RI COVID-19 antibody testing ability grows
COVID-19 testing isn't just about establishing who has been infected with the virus and may be sick, she said. It's also about understanding the overall prevalence of the novel coronavirus in the state.
Earlier this week, Raimondo said, the state received a shipment of 20,000 antibody tests. Such tests are used to determine who may have already been infected, then recovered from the virus, and thus likely immune.
But the tests can't be put into use right away.
"Now that we have the tests in our possession, the first step is to validate the tests," Raimondo said
After that, RIDOH will begin to sample people at random across the state.
"We know that more people have been infected than we have been able to test," Raimondo said, but the sample population antibody tests will give officials insight into how widespread the virus has been in the state.
To that end, Raimondo announced a Testing and Validation Task Force to analyze data and draw conclusions from the sample of the population tested for novel coronavirus antibodies.
The Task Force will be co-chaired by Dr. Angela Caliendo and Dr. Jonathan Kurtis, two Lifespan physicians.
"It's going to be weeks, not days, before we have results to share," Raimondo cautioned.
Additional COVID-19 outbreak response announcements:
Workforce stabilization: The Governor announced a new Congregate Care Workforce Stabilization Fund for private providers. For the next month, this fund will provide temporary pay increases for low-wage frontline workers at eligible Medicaid-funded residential facilities. Employers can apply to the Office of Health and Human Services starting next week.
Banking pledge: More than 20 financial institutions in RI have pledged the following relief to their residential borrowers:
A 90-day grace period for all residential mortgage payments for individuals impacted by COVID-19, with the opportunity to request additional relief
An agreement to not report late payments to credit reporting agencies for residential borrowers who take advantage of this relief
A 60-day moratorium on initiating residential foreclosures and evictions; and
An agreement to waive mortgage-related late fees. More information can be found here. https://dbr.ri.gov/documents/Financial_Institution_Pledge.pdf
Rental assistance: Starting next Thursday, the state will be making available $1.5M in rental assistance for low income Rhode Islanders across the state. Details and information on how to apply will be announced in the coming days.
Violence Prevention: Next Thursday at 11 a.m., Governor Raimondo will be joined by Senator Reed, Senator Whitehouse, Congressman Langevin, Congressman Cicilline, Attorney General Neronha, members of the Cabinet and representatives from the advocate community for a Violence Prevention Facebook Town Hall. Rhode Islanders can submit their questions on Facebook or anonymously by emailing 

[email protected]

.