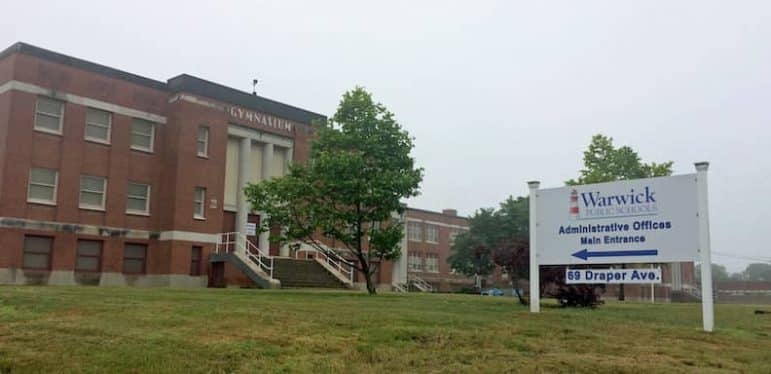 WARWICK, RI — U.S. Senator Jack Reed's federal school safety legislation efforts and the grant writing skill of  Warwick Schools' Director of Technology Jeff Taylor have landed $358,273 in federal funding for a hire a District Coordinator of School Safety and Security.
 The federal funding, allocated from the U.S. Department of Justice's School Violence Prevention Program (SVPP), was set up in 2018 after Reed helped pass a school safety law creating the School Violence Prevention Program under the bipartisan Students, Teachers, and Officers Preventing (STOP) School Violence Act.  This law made annual SVPP grants available to states, school districts, and tribal organizations to bring evidence-based programs and strategies to bolster school safety.
After that, all Warwick needed was a grant from the program.
"We are extremely appreciative that the reviewers saw the need and the benefit in our grant application and we are thankful for all of the work that Senator Reed has done over the years to advocate for and support increased school safety," said Taylor, co-author of the grant. "We have been working hard to continuously improve safety and security for all stakeholders across the district. Working to create this new position and secure grant funding was one of those projects that just felt right from the moment that the pen first hit the paper. The want was there, the need was there, and now with this support, we are excited that the plan has become a reality."
What will a District Coordinator of School Safety and Security do?
The goal of District Coordinator of School Safety and Security will be to promote a safe, orderly, and caring school environment by planning and implementing programs designed to reduce school violence and engage students in appropriate behaviors and activities that promote character and facilitate academic growth.
The District Coordinator will perform supervisory and administrative tasks in developing, implementing and managing programs designed to effectively address the safety and security needs of students and staff in all schools and programs.  The Coordinator will serve as point of contact for emergency communications with schools, community and with emergency responders and coordinates the school crisis response programs.  He/she will manage emergency response protocols involving threats that have the potential to impact school safety and will work with local law enforcement agencies to monitor and coordinate the school resource officer program.
"I want every student, parent, and staff member who walks into a school building to be safe and feel welcome in a healthy, nurturing school environment that is free from violence and has an effective safety plan in place," said Reed, a senior member of the Appropriations Committee.  "I commend Warwick for taking a proactive approach to bolstering school safety.  This new safety coordinator will help oversee school security and support schools throughout Warwick with ensuring a safe learning and work environment for students and staff.  This person will oversee school safety, including planning, training, and emergency response protocols and coordination."
Earlier this year, Senator Reed helped provide an additional $200 million to the School Violence Prevention Program through the passage of the Bipartisan Safer Communities Act, federal gun safety legislation signed into law by President Biden in June.  The Bipartisan Safer Communities Act included multiple provisions to reduce gun violence and keep American schools and communities safe, including $750 million over the next five years for states to create and administer 'red flag' laws and other measures that can keep guns out of the hands of those who are deemed to be a threat to themselves or others.
So far, nearly $72 million in SVPP grants have awarded during 2022 to fund 235 projects nationwide.