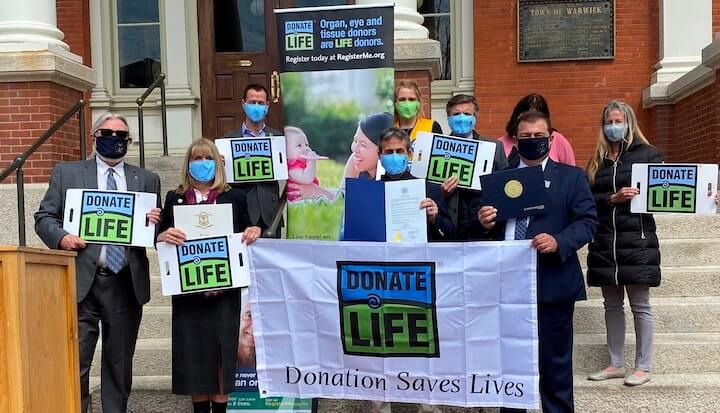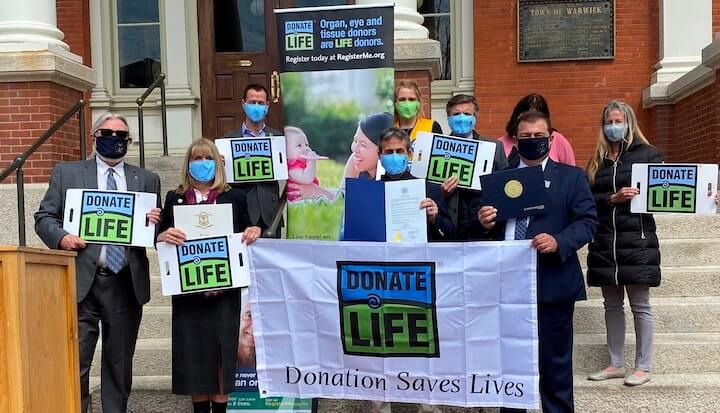 WARWICK, RI — April is April Donate Life Month celebrating organ donation, and Warwick Mayor Frank Picozzi gathered with organ donors outside City Hall Wednesday to highlight the cause.
At 11:10 a.m., Picozzi joined individuals touched by organ donors to celebrate Donate Life Month and organ donation, asking people to "Have a Heart and get a Heart" by registering as oran donors at the DMV when getting or renewing their driver's license, Real ID, or ID or online at www.RegisterMe.org, said Matt Boger at New England Donor Services in Waltham, MA.
Joining him were:
Billy Partain – Donor family
Alison White – Kidney Recipient (gave birth after transplant)
Amanda Moffat – Donor Family
Lisa Pappas – Recipient
Liz Sandeman – organ donation advocate and Lions Club Lead
The RI Organ Donation Advisory Council
 New England Donor Services
Donate Life Month in Rhode Island is an opportunity to continue our education efforts, celebrate the lives saved and enhanced through donation and honor the donors who made the ultimate gift.
The state plays an important role in the donation process as the vast majority of individuals in Rhode Island who register as an organ and tissue donor at the state Division of Motor Vehicles (DMV).  In 2020 over 1,027 lives were saved here in New England because of the generosity of individuals who became organ donors.
Thousands more lives were enhanced through the gift of tissue donation.  With the need for life-saving transplants growing every day – over 108,000 patients are now on the US transplant wait list – it is crucial to educate our communities about taking action to register as donors,
New England Donor Services is the parent organization of New England Organ Bank, the federally-designated Organ Procurement Organization (OPO) responsible for coordinating organ and tissue donation in the six New England States.
To register to be a donor outside the DMV office or for more information visit www.RegisterMe.org