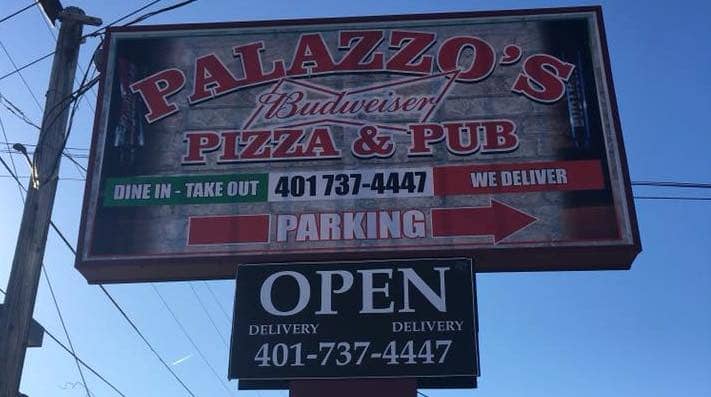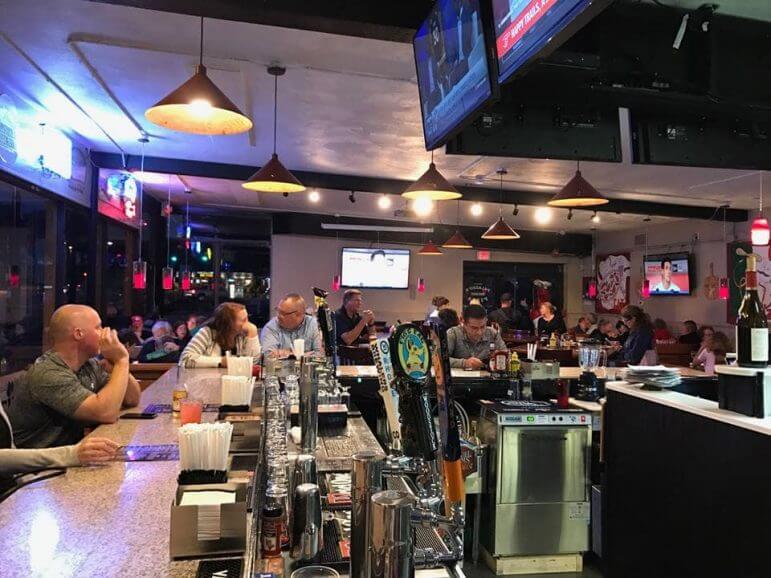 WARWICK, RI — When Warwick businessman Jim Bosco opened his third incarnation of Palazzo's Pizza in October opposite Airport Plaza, the place quickly took off even before the "Palazzo's" sign could be installed.
The new Palazzo's has already established itself in the formerly vacant space at 777 Airport Road near the corner of Post Road.
The place is packed especially on Fridays and Saturdays, says Bosco. Loyal customers quickly sought out the new location. A healthy number of travelers from nearby hotels discover it daily as well
Bosco, a Warwick businessman for the past eight years, particularly appreciates the pizza business for its longevity and stability.
"You don't often see a pizza place go out of business, because people don't want to give up pizza.
Bosco was the original owner of Palazzo's Pizza, now Mike and Gel's Pizza in Buttonwoods, which he sold in March 2017. Before that, he owned Palazzo's Pizza in Governor Francis from 2010 to 2014.
When Bosco began to search for his third Warwick location earlier this year, he quickly observed that "there wasn't any other place available. This seemed like a good location because there is a lot of traffic" on Airport Road.
Bosco continues to trade up in his foodie aspirations: the new location offers a more varied menu with a mixture of family-style Italian food as well as pub favorites like fish and chips, nachos, potato skins and burgers and fries. There are 12 gourmet pizzas on the menu, and the most popular is not even Italian. It is the mashed-potato pizza with bacon and cheese.
The restaurant also has a full liquor license with12 beers on tap and an assortment of wine and spirits. Six flat-screen televisions and a jukebox as well as local acoustic musicians provide entertainment.
Bosco himself designed the new restaurant. It underwent a six-month renovation process earlier this year that completely altered the space, even adding bathrooms and a large kitchen. With floor-to-ceiling glass-panel windows lining every wall, sunlight streams across booths, tables and a granite-topped bar. The restaurant can accommodate about 75 people including staff.
"This is a bigger place with a bigger bar to sit at. It's open and bright. I am very happy with the way it has turned out. It has a family atmosphere that is important," he said.
Bosco admits that he doesn't eat pizza, but observes that he sells "hundreds" of pies each week because people "have a craving for it."
"I love the pizza business. To me, it's fun. I love dealing with customers and meeting new people. You have to love what you do."
A Warwick native, Bosco is confident his new establishment will be a success because believes in his business and his skills as a restaurateur.
"About 90 percent of small businesses fail in the first year, because you either have good product or you don't. It's hard whatever you do. Some people get into a small business and see how much time and effort it takes and would rather punch a clock 40 hours a week."
Bosco, in fact, works between 60 and 70 hours a week.
"I want to do it now before I get old," said the boyish 51 year old.
"I want to pay my bills and make a lot extra, and once the restaurant establishes itself, it will do that."
Over the years Bosco has always altered his pizza businesses to suit customers' demands and his own decisions.
The first Palazzo's in Governor Francis was originally an Italian deli.
"Then I added pizza, and it really took off. I decided I just wanted to sell pizza. The pizza business is easier than deli. It is not as demanding."
Jim and his wife, Cherie, his daughter, Nicole, and son, Alex, staff the new restaurant.
Everyone on the family staff is a "clean freak," Bosco said. "We put in a lot of dedication and offer a good product."
The family constantly discusses which items to add or subtract from the menu.
"The prices have to be reasonable. I charge $10.99 for something that a corporate restaurant would charge $15.99 for. I have to control costs because this is not fine dining. It's a family place. People feel comfortable here and have a good time and don't worry about the noise they make," he said.
Bosco vows never to sell this Palazzo's Pizza, and says he plans to work in the restaurant until retirement.
"I love what I do. I love it when people say that everything here was good and that the food was great. People leave here full and happy."