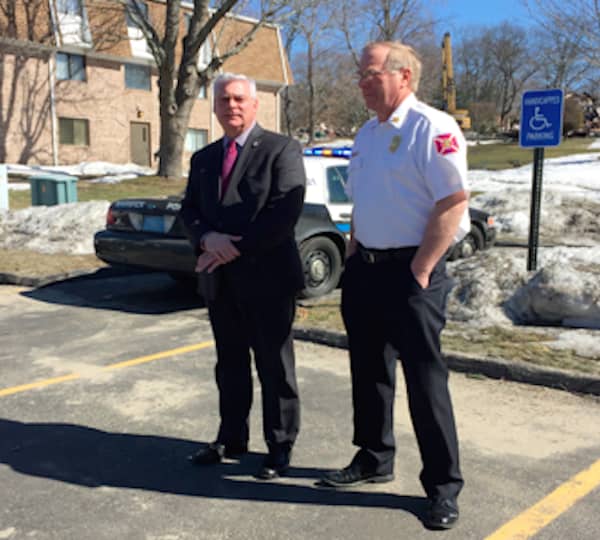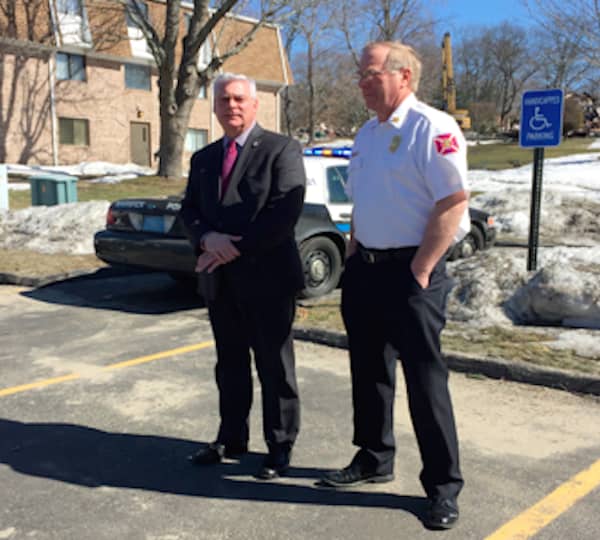 Editor's Note: With reports by Bethany Hashway.
Warwick, RI — Mayor Scott Avedisian and Fire Chief Edmund Armstrong said at a press conference on March 12 that the work continues to help the 100 residents of Westgate Condominium, displaced by a fire that swept through the complex on Wednesday.
"We have been working through the night with Red Cross" to provide shelter and other needs to the residents, Avedisian said.
Armstrong explained that the cause of the blaze — which completely destroyed the complex — is still under investigation, as is the reason for a lack of water pressure that required the city to call in fire crews from Scituate and other surrounding town to provide additional water, the mayor added.
Avedisian said the research is still ongoing into "whether or not the firefighters had properly functioning hydrants," which Kent County Water Authority is contracted to provide.
Officials shut down Route 2 for part of Wednesday afternoon to allow water trucks through the area, Avedisian said. The mayor also acknowledged "there have been rumors so far, and we're not going to speculate" about how the fire started.
Several questions at the press conference referred to the apparent lack of water pressure at key hydrants in the fire zone, and Avedisian voiced concern whether there was "something that didn't function the way it should."
There's also a review of the inspections ongoing, Avedisian explained, to see "whether the inspections showed they're fine, or whether there were issues" with the fire suppression systems at the building.
When one reporter asked why the 38-unit complex had been so quickly reduced to rubble, Avedisian replied that "the investigators took all of the information out that they needed" before officials, fearing collapse of the building, ordered it razed.
Demolition crews brought down the final pieces of the condominiums at about 1:45 Thursday morning, according to Armstrong.
Support efforts for the residents left homeless by the fire also include a GoFundMe campaign to help David Genest Jr. and Courtney Lemay, who are expecting the birth of their first child in June.
By Thursday night, one full day into the online campaign, the website reported $2,925 of the $10,000 goal had been raised.
Further information was added to this article after it was first posted.