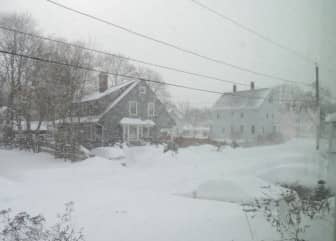 Warwick, RI – Layered clothing remains your best bet at relief from the cold till Spring in 29 days, particularly this morning, while a wind chill advisory remains in effect until after the morning commute.
The National Weather Service warns of wind chilling temperatures as low as 20 to 25 degrees below zero, which began at 3 a.m. and will last until 10 a.m.
The weather gives us another chilly turn on Saturday, when a few more inches of snow is forecast to fall on the area. But it's the rain afterwards that could spell trouble for homeowners. The National Weather Service predicts the snow will turn to rain late Saturday night, worsening existing roof problems residents might be having due to the heavy snow cover on most homes.
Already, about 50 inches of snow have fallen in Warwick, according to the RI Emergency Management Agency, which urged homeowners to remove snow from roofs.
"With more snow on the way, combined with the previously accumulated snow and ice, the roof of your home or business could be experiencing a good amount of stress, which could lead to a potential collapse. If more than a foot of snow and ice have accumulated on your roof, you should have it removed by a professional, especially if the roof is flat," said RIEMA Director Peter Gaynor.
After the weekend, more cold will likely call for another wind chill advisory Monday and Tuesday, according to the NWS.
In Warwick, the city reported minor structure damage from the cold weather. On Tuesday, a burst pipe in the Warwick Library on Sandy Lane affected a 10-foot area, said Mayor Scott Avedisian.
"We had a little bit of damage," Avedisian said, but it was minimal, and he expects it to be fully covered by the Rhode Island Interlocal Risk Management Trust, the city's insurance provider.
A few days before that, some pipes froze in one of the fire stations, the Mayor said. Overall, he said, the city is weathering the cold very well.
RIEMA Safety Tips for Clearing your Roof:
Safety Tips for clearing your roof:
– When possible, use long-handled snow rakes (available at most hardware stores) or poles and stand on the ground level to remove the snow from your roof
– If you must use a ladder, make certain that the base is securely anchored Ask a friend, neighbor or family member to hold the ladder while you climb
– Do not attempt to clear snow from your roof during periods of strong winds
– Make certain not to contact electrical wires
– If possible, do not attempt to clear the roof alone
– Roof drainage systems should be kept clear to minimize the risk of future roof ponding in the event of subsequent heavy snow melting. This is especially important for flat roofs
– When in doubt, hire a professional contracting service