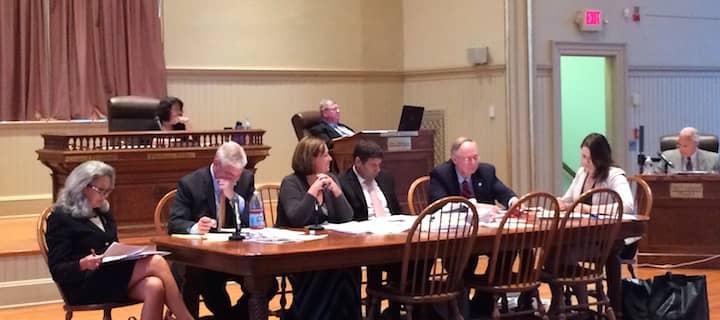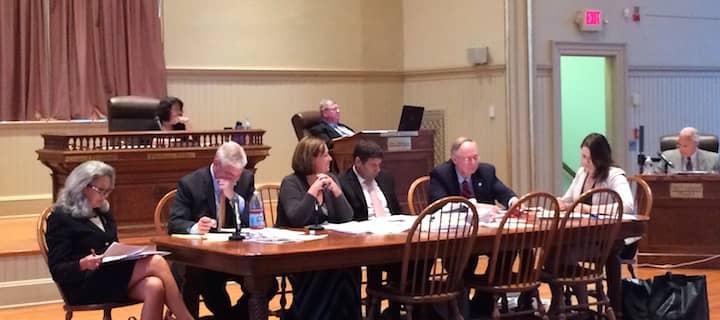 Warwick, RI – Mayor Scott Avedisian's $294,048,252 FY16 budget funds paving at the $1 million City Councillors intended to raise it to last year, but Councilman Steve Merolla argued at Wednesday night's budget hearing it's still too little for the task.
The sentiment, expressed largely by Merolla last night, played a part in Mayor Scott Avedisian's veto of the budget last year.
Merolla was among the most vocal advocates for increasing the paving budget at the time. Ultimately, the Council added $597,929.31 to Avedisian's FY2015 $450,000 paving budget for a total of $1,047,929.31, taking the funds from the city's healthcare account.
Avedisian objected to the move, vetoing the City Council's amended budget, the first veto of a city budget since 2007. The disagreement notched spending up to $289,208,735 when all the council's amendments save an extra $400,000 for schools were undone.
As a result, the FY2015 residential tax rate increased from $20.02 to $20.06, commercial/industrial from $30.03 to $30.09 and tangible personal property from $40.04 to $40.12.
Last night, City Engineer Eric Earls told Councillors that this year's $1 million would pay for restoring about five miles of road in the city, with about 1/2  a mile of that involving a complete road overhaul.
There are 400 miles of road in Warwick, he said, answering a question by Merolla.
Merolla noted the sum was still not adequate to address all the work needed on the city's roads. At the rate of $1 million budgeted for paving each year, it would take the city 80 years to repave all its roads, Merolla said.
But Earls said the money is a good beginning. "As we start this process, I think $1 million is adequate," Earls said.
Earls pointed out that several streets will benefit this year from an agreement with National Grid, which is required to repave streets they disturb during utility work. Instead of letting National Grid do the work, the city now takes a payment from the company for the work, then performs the job themselves, investing in a more comprehensive overhaul of the street in question.
Merolla insisted that the paving budget needs to be set at $4 Million or $5 Million annually to adequately keep up with road maintenance in the city.
He seemed to win some support from about half a dozen Bay Ridge residents attending the meeting who took the opportunity when Council President Donna Travis asked if members of the public wished to speak.
David D'Amore told the Council that Bay Cliff and Sunset Roads were in need of attention.
"To my recollection, the roads in Bay Ridge and Potowomut have not been repaved since Gov. Chafee was mayor," D'Amore said. He added that while being aware of the problem is a good first step, fixing it requires action, in the form of jackhammers and asphalt.
D'Amore said pothole patches don't last through the first pass of a snow plow.
"This is not a long-term solution. This is more costly in the long run," D'Amore said.
D'Amore asked about half a dozen of his neighbors to stand to show their support for his comments, which they did.
"He's right," said Wendy Gervais, "They really do need to be structurally rebuilt, not just tamped down."
Picozzi said the DPW has resurfaced Potowomut Road in recent years, and that he's asked Earls to put together a plan to address the worst of the roads in the area, acting on recent emails from D'Amore.
DPW Director David Piccozi was frank in his response, telling the residents he wouldn't be able to entirely rebuild the roads. "You heard the testimony," Picozzi said," The money's just not there."
Eugene Ripa 0f 50 Lucas Road said his road hasn't been resurfaced in the 42 years he's lived there. He brought Picozzi a petition with 141 signatures asking the city to repave the area.
Picozzi said National Grid is scheduled to do utility work on several roads in the area, which will allow the city to tackle many of the problems. Earls said National Grid has work permits approved for Lucas Road, Topaz Road, Ebony Drive, Jewel Drive, Jonquil Court and Opal Court.
Earls said the work on those roads will be completed this summer, and when National Grid pays for digging them up, that funding will be used to overhaul those roads.
Wednesday wasn't all about paving for Picozzi. Councilman Edward Lacouceur noted the director managed the DPW through one of the harshest winters in recent memory this year, with $170,000 in overtime for city workers.
The DPW's Highway Department budget was $3,211,470, and Picozzi spent $3,165,959, a difference of $45,511.
"And you still brought the department $45,000 under budget. Good job," Ladouceur said.
The Council and Avedisian also took the opportunity to congratulate retiring City Clerk Marie Ahlert, who celebrates her retirement party tonight.
"Thank you for your 22 years of service as a city employee," Avedisian told her.
Councilman Joseph Solomon echoed Avedisian's remarks, and asked her to explain her department budget's proposal for a Deputy City Clerk, a new $61,300 position.
Ahlert said in fairness to the new City Clerk, Judy Wild, she wanted to split up some of the many duties she's assumed over the last two decades, which would be a lot to expect the new clerk to handle on her first day.
Ahlert said her responsibilities have grown to include management of five departments at City Hall, including the probate court.
"I need someone who is going to be able to pick up the ball and run with some of the management responsibilities," Ahlert said.
The Budget Hearings continue this evening at 5:30 p.m. in Warwick City Hall, starting with the School Department.