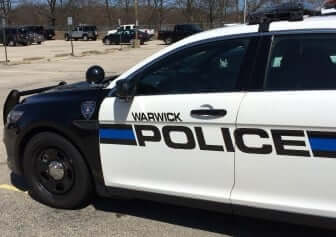 WARWICK, RI — The driver of a Ford Explorer wanted in Coventry and East Greenwich cried when stopped on East Avenue, then fled into congested traffic where he was stopped again Dec. 29 at 11:15 a.m.
Officer Jacob Elderkin noted the 2011 SUV had a spiderweb crack on its windshield and was driving slowly, and ran his plate into, learning he was wanted on multiple felony warrants, including bench warrants in Coventry and East Greenwich.
Elderkin pulled the SUV over near Kohl's, and when he approached the driver, identified as Jonathan Perry, 38, of 26 Park Ln., Apt. Top, Coventry, RI, the man cried, according to the officer's report. He also took off toward the congested intersection.
The chase was short-lived, because the intersection was congested, allowing Elderkin to catch up to the SUV again quickly. Elderkin ordered Perry to turn off his vehicle and put his hands out the window, which he did. Elderkin arrested him and placed him in the cruiser of Officer Connor Bemis, who had arrived to assist.
A search of Perry's vehicle revealed a number of hypodermic needles. Perry told Elderkin he was addicted to fentanyl.
At Warwick Police headquarters, Elderkin charged Perry with a count of reckless driving and alerted Coventry and East Greenwich Police that he would be showing in court on their respective warrants.