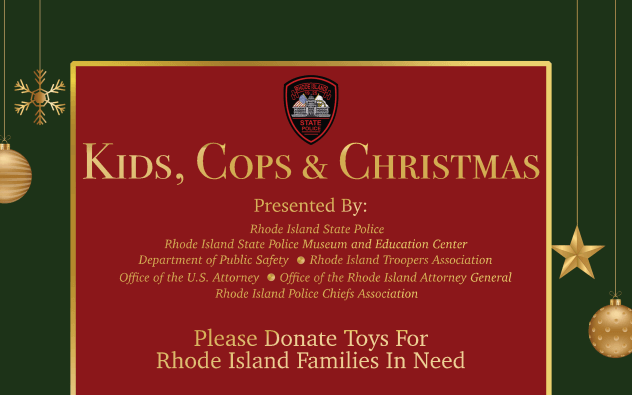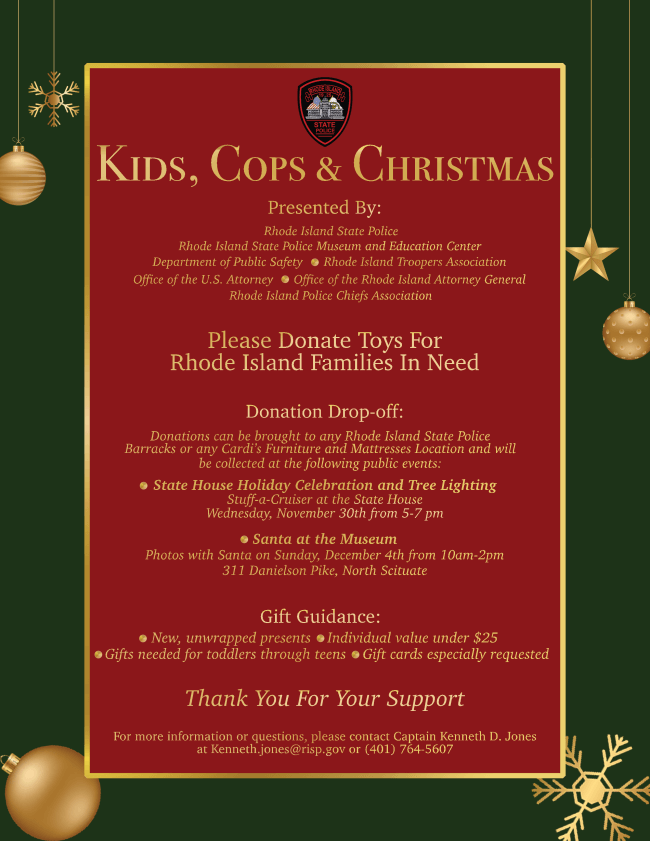 The Kids, Cops and Christmas toy drive is underway till Dec. 15, taking donations of new, unwrapped gifts and gift cards with a value of $25 or less, for toddlers through teens.
The drive is run yearly by the Rhode Island State Police, Rhode Island State Police Museum and Education Center, Department of Public Safety, the Rhode Island Troopers Association, the Office of the U.S. Attorney, the Office of the Rhode Island Attorney General and the Rhode Island Police Chiefs Association
Donations can be brought to any Rhode Island State Police Barracks and any Cardi's Furniture & Mattresses location. Donations will also be collected at the following public events:
State House Holiday Celebration and Tree Lighting. Stuff-a-Cruiser at the State House on Wednesday, November 30th from 5-7 pm
 Santa at the Museum. The Rhode Island State Police Museum Foundation is hosting photos with Santa on Sunday, December 4th from 10 am to 2pm In addition to toys, donations of new undergarments, socks, coats, hats, scarves or mittens in infant to teen sizes will be accepted and distributed.
Toys will be given to the following organizations for distribution:
African Alliance
Center for Southeast Asians
Chad Brown Alumni Association
Children's Friend
Crossroads Rhode Island
Family Service of Rhode Island
Glad Tidings
Hispanic Ministerial Association of Rhode Island
Mount Hope Neighborhood Association
Vision Evangelica Church
Narragansett Indian Tribe
Wiggin Village
"Our Troopers look forward to participating in collecting gifts for Kids, Cops and Christmas every year," said Colonel Darnell S. Weaver, Superintendent of the Rhode Island State Police and Director of the Department of Public Safety. "Collaborating with our law enforcement partners on something that helps the Rhode Islanders we serve every day is very important to us. We appreciate the opportunity to help our community during this holiday season."
"Police officers work every day to help the people in our communities who are struggling. The tradition of Kids, Cops and Christmas helps us use our collective strength for a wonderful cause," said Chief Sean Corrigan, Narragansett Police Department, and President of the Rhode Island Police Chiefs Association. "The Rhode Island Police Chiefs are happy to join our colleagues again this year to make Christmas merry for more Rhode Island families."
"The RI State Police Museum and Education Center is once again proud to be a part of this great community outreach program," said Corporal Daniel O'Neil, President of the Rhode Island State Police Museum and Education Center Foundation. "Any and all donations will be distributed to those Rhode Islanders in need."