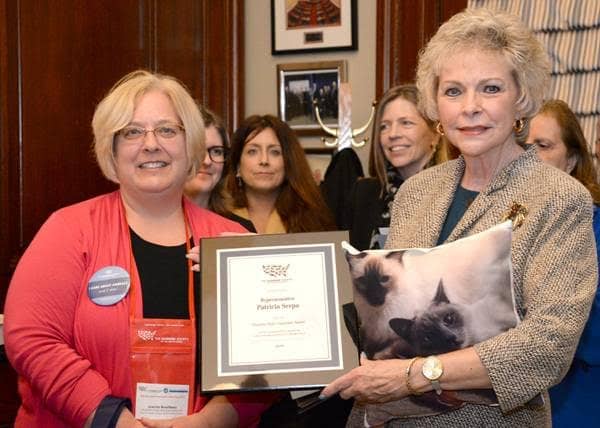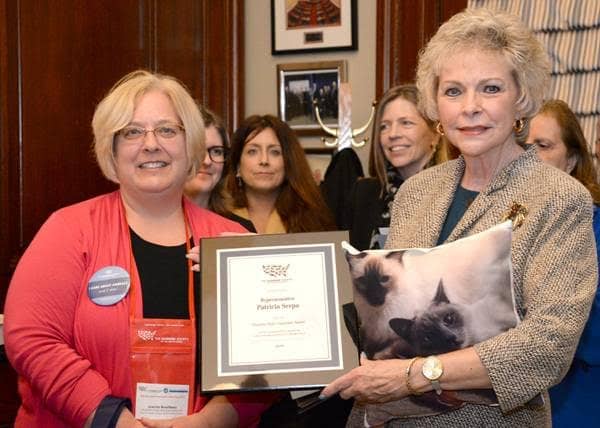 Editor's note: The following is a news release from the Legislative Press and Public Information Bureau.
STATE HOUSE — Speaker of the House Nicholas A. Mattiello (D-Dist. 15, Cranston) and Rep. Patricia A. Serpa (D-Dist 27, West Warwick, Coventry, Warwick) have received the Humane Society's 2015 Humane State Legislator Award. The award was given during a ceremony in the speaker's office.
The award was given in recognition of Speaker Mattiello and Representative Serpa's commitment to support animal-friendly legislation in Rhode Island — particularly legislation approved by the House of Representatives during the last session. This included bills to phase out the use of inhumane cages for egg-laying hens and to ban the sale of shark fins. Both bills have been reintroduced this session with the support of Speaker Mattiello.
"The Humane Society is the first name in animal advocacy," said Speaker Mattiello. "To receive this honor from them for our efforts at making Rhode Island a better place for animals is truly a source of pride for the entire House of Representatives."
Representative Serpa, who received this honor twice before in 2012 and 2013, said, "One of the most important things we do as legislators is function as advocates for those who cannot speak for themselves. I'm proud of the legislative work we have done to protect animals and I look forward to continuing this work. To be recognized once again by the Humane Society is a tremendous honor."
Last year, Representative Serpa was invited to serve on the National Humane Legislators Council to assist the Humane Society of the United States in strengthening and passing animal protection laws at the state level. She has introduced legislation (2016-H 7324) that would make changes to and clarify the definition of what constitutes unlawful confinement of a "covered animal," to include any sow during gestation, calf raised for veal or egg-laying hen kept on a farm. She has also sponsored a bill (2016-H 7392) that would create felony penalties when an act of cruelty results in an animal's death.
The Humane Society of the United States, one of the country's largest animal protection organizations, annually recognizes state lawmakers across the country who pursue trailblazing animal protection legislation and policy.