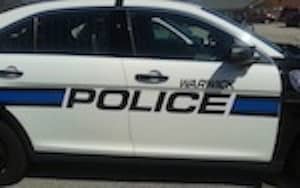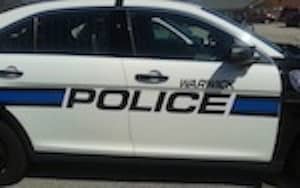 Editor's note: The following Warwick, RI arrest was reported by the Warwick Police in publicly available records. An arrest reflects charges against an individual, and does not indicate guilt or innocence. 
Warwick, RI – An East Providence man was charged with DUI Aug. 22 at 9:39 p.m. after taking a very wrong turn, a thought which apparently dawned on him moments after he drove past a "Police Only" sign and pulled alongside an occupied WPD cruiser, his mouth wide open, a shocked look on his face.
Ronald M. Baker, 27, of 34 Mary Ave., East Providence, came to the attention of Officer John Larivee when he drove a blue 2002 Nissan Quest into the rear parking lot at Warwick Police Headquarters, where the policeman was stopped in his cruiser.
Driving into the lot required Baker to travel past a sign reading: "Do Not Enter – Police Only," according to Larivee's report. Larivee also noted that the vehicle was immediately suspicious to him.
Larivee watched as the car pulled in front of his cruiser, its driver, later identified as Baker, appearing to be slumped behind the wheel. Baker pulled slowly past the cruiser, displaying, "what appeared to be a shocked or confused look on his face," according to the officer's report.
Larivee's window was open, so he called to the driver, asking if he could help him. Baker replied, "Uh, I'm just turning around." Larivee reported that Baker's speech seemed severely mumbled.
Larivee ordered Baker to stop his car, exited his cruiser, and approached Baker's car. As he approached, Larivee noticed Baker attempting to hide a can he was holding under the steering wheel. When asked what was in the can, Baker said it was soda. When asked what kind of soda, Baker said, "Pepsi."
Larivee asked to see the can, and when Baker held it up, the officer could plainly see it was an 8-ounce Bud Light Stra-Ber-Rita (8% alcohol by volume), according to the report. The can was about 3/4 full, and still cold.
Larivee also noted Baker's speech remained severely mumbled, and his breath carried a strong odor of alcohol. Baker's eyelids appeared droopy and his eyes were glassy and bloodshot, according to the report.
Larivee asked for Baker's license and registration, and asked him to step from the car. At first, Baker had trouble opening the door, then told Larivee he had to turn the car on to open it, which he did, managing to get out.
When asked how he ended up in Warwick, Baker replied, "I'm in Warwick?" and said he had been driving around and was not sure how he'd ended up in the WPD lot. When Larivee asked him to take a series of sobriety tests, Baker agreed.
The tests didn't go well for Baker. He displayed a lack of smooth pursuit during the vision test, and swayed on his feet. He raised his arms for balance and broke heel-to-toe contact for the walk-and-turn, and was unable to perform a one-leg-stand, according to the report.
Larivee arrested Baker, charging him with driving under the influence of alcohol. Inside the station, Baker said he'd had three or four Bud Lights, had smoked marijuana earlier that day and was taking three prescribed medications, which he disclosed to Larivee.
All three of the medications Baker said he was taking warn against using them with alcohol, two because it increases the drugs' side effects, the third because it increases the effects of alcohol, according to the report.
Baker also returned a .224 and .232 on separate breath tests for blood alcohol levels. Larivee charged him with driving under the influence, .15 blood alcohol content or greater.
Baker is due in Third District Court Sept. 16 to answer the charge.