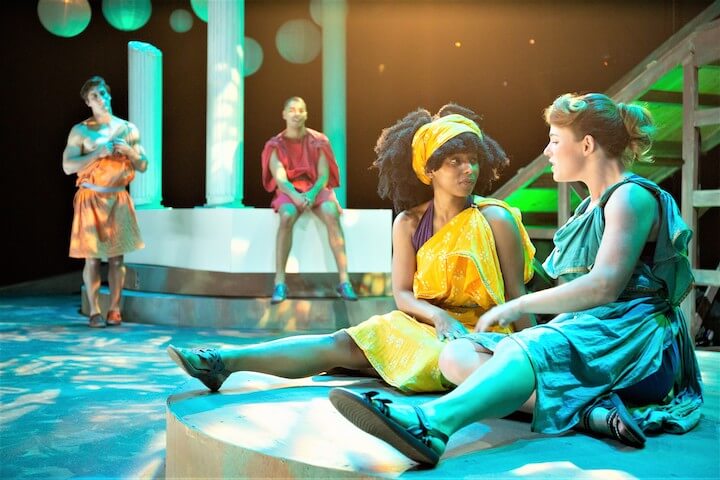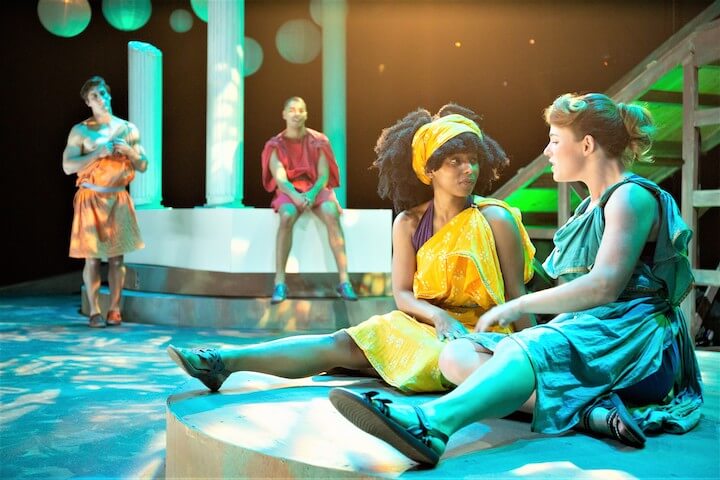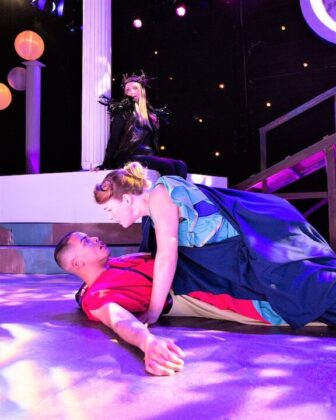 WARWICK, RI —The Gamm Theatre closes their 2021-2022 season at the end of the month with a stellar production of William Shakespeare's comedy "A Midsummer Night's Dream."
Written in 1595, this tale of lovers and faeries has plenty of charm and humor, along with perhaps the finest acting ensemble in the state.
Hermia (Angelique C'Dina) is in love with Lysander (hunky Michael Underhill). Helena (Nora Eschenheimer) is in love with Demetrius (Erik Robles).
Their relationships are complicated by the trickery of the faerie Puck (played with irreverent charm by Marc Pierre).
Another subplot follows a troupe of actors who are rehearsing a play they intend to perform for Theseus, Duke of Athens (Taavon Gamble) and Hippolyta (Katie Flanagan), who plan to be married.
Under the exquisite direction of Fred Sullivan, Jr. ("A Lie Agreed Upon"), the large cast excels at giving these zany characters depth and dimension.
One of the innovations Sullivan made was to cast a male actor as Titania, the Faerie Queen, with a female actor as Oberon, King of Faeries. The gambit pays off spectacularly due to the fine work of Deb Martin ("The Importance of Being Earnest") and Michael Liebhauser ("Assassins").
Martin commands the stage with a sense of imperiousness mixed with devilish glee, while Liebhauser exhibits warmth and vulnerability as the lovestruck queen.
Tony Estrella ("The Night of the Iguana") is very funny as Bottom, an actor who winds up wearing a donkey head for much of the time. Bottom's death scene (as Pyramus) is absolutely hilarious.
C'Dina and Eschenheimer are always mesmerizing as Hermia and Helena fight for the men they love as well as all the obstacles placed in their path.
Other standouts were Brandon Whitehead ("As You Like It") as Peter Quince, the director of the acting troupe, and Jomo Peters as Egeus, Hermia's disapproving father.
Sullivan's staging of the action was effective, along with the atmospheric set design by Patrick Lynch. Jessie Darrell Jarbadan's costumes were colorful and imaginative, and Jeff Adelberg's lighting helped create an otherworldly mood.
I should note that Sullivan has appeared in previous productions of this play and his affection for the story shines through in every scene.
"A Midsummer Night's Dream" is sexy, romantic, absurd, whimsical, exciting, and fun. You couldn't ask for more from a night (or afternoon) at the theater.
A Midsummer Night's Dream runs through May 29. The Gamm Theatre. 1245 Jefferson Boulevard. Warwick. Proof of vaccination and masks are required. For tickets, visit gammtheatre.org.