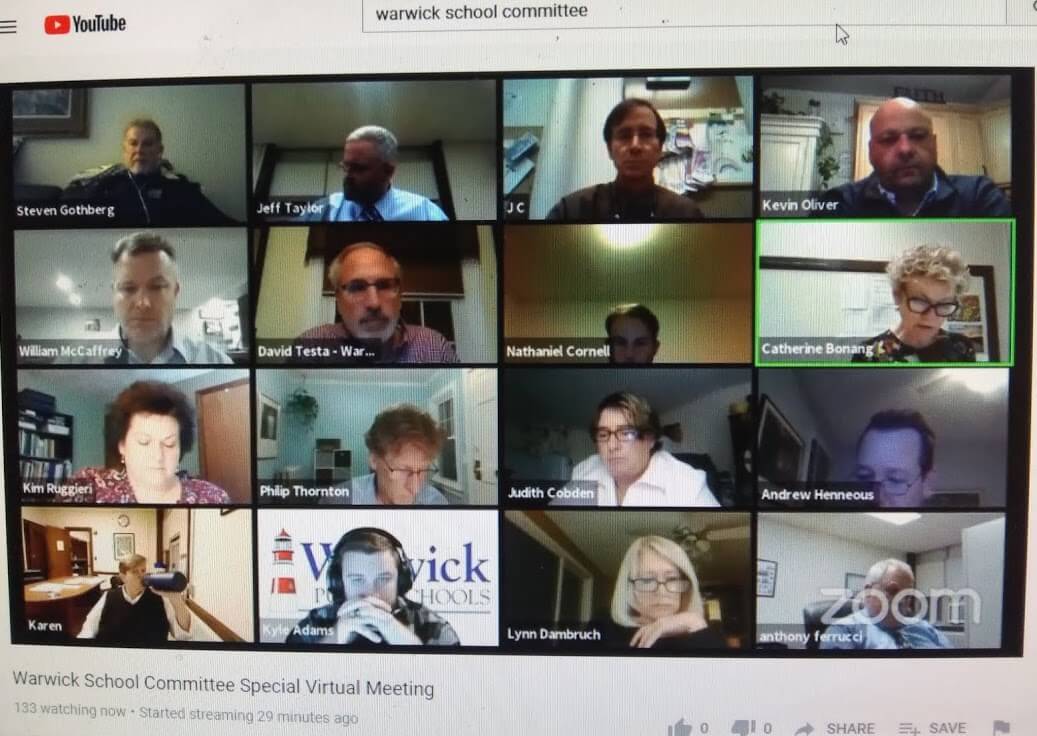 WARWICK, RI – Five-day in-person K- 5 learning could begin on Dec. 7, the Warwick School Committee learned Nov. 17.
Assistant Superintendent Lynn Dambruch told the school committee that date is subject to change, based on the rate of new Covid-19 infections in Rhode Island. The number of infections in the state now number 44,528, according to the Rhode Island Department of Health. That puts the percent of state population infected at 5.9 percent.
In August, Rhode Island set the population percent positive rate threshold for sending children back if the infection rate was low enough. Dr. Anthony Fauci, the nation's top infectious disease expert, reported during a Facebook Live conversation with Gov. Gina M. Raimondo that RI could safely open schools since the state's infection rate was less than 5% of the population.
Tuesday, RIDOH reported that this week the percent positive rate has climbed to 5.9 percent.
Meanwhile, Warwick Schools have sent a survey to parents asking if they will allow their children to participate.
Dambruch showed a video for parents at Tuesday's school committee meeting. Hoxsie Elementary School Principal Gary McCoombs discussed the safety protocols in the building.
"I urge families to look at these resources in order to make informed decisions," Dambruch said.
The committee held off on a vote on whether to return Grade 6 students to Veterans Middle School and Winman.
Steven Gothberg, the Director of Buildings and Grounds, said he is waiting for purifiers to be delivered for use at Veterans Memorial Middle School. The 45 purifiers for Winman Middle School are in stock and should be installed in the next few days, he said
"We have enough purifiers to do what we need to do at Winman," Gothberg said.
Dambruch said last week the schools were not ready to reopen due to staffing shortages. Building aides are needed, she said.
"We're doing the best we can with the staff we have," Facilities Maintenance and Operations Manager Kevin Oliver said. "We had to have some (employees) quarantined. They are coming back. We had a group of them return today and yesterday. We're almost back full staff."
The committee approved Gothberg's purchase requisition in support of his request to issue a contract for architectural and engineering services associated with replacing the roof at Holliman Elementary School.
"Both Mr. Gothberg and I concur that Holliman's roof has deteriorated to the point that it needs to be replaced as soon as possible," said Anthony Ferrucci, Chief Budget Officer, in a letter to Superintendent Phil Thornton.
The funds will be drawn from the $56 million bond, which was approved on November 3. Ferrucci said he will appear before the committee in early December to seek authorization for approximately $2 million, of which half will be for the Holliman roof project.
"If approved, we will be in a position to replace Holliman Elementary School's roof during the summer of 2021," Ferrucci added.
The committee also voted 5-0 for a three year contract extension for First Student to provide bus transportation for the district.
"The proposal presented by First Student projects rate increases of one percent, three percent and three percent over the life of the proposed three-year extension," Ferrucci wrote. "The proposal presented waives any potential claims by First Student for any service not rendered prior to Jan. 1, 2021. The proposal presented also stipulates the determination of guaranteed routes on an annual basis."
Darlene Netcoh, the President of the Warwick Teachers Union, criticized committee member David Testa for comments he made at the Nov. 13 meeting regarding teachers' concern for their safety.
"You listed your underlying (health) conditions and scolded teachers for being concerned about their welfare of both themselves and their students because at your workplace you're able to take precautions. Teachers have the right to be concerned. The school nurses have expressed their concerns. As a school committee member, you are responsible for the safety of every human being that enters a Warwick school building. As I have previously stated, without teachers and students, there wouldn't be a school committee."
A teacher at Oakland Beach Elementary School called Testa's comments Nov. 13 "degrading" and "unprofessional."
"Most committee members are genuinely concerned and I believe are interested in our output," the teacher said. "However, Mr. Testa's comments and behavior clearly tells us he does not care at all about what we have to say. He needs to sincerely apologize for his comments and lack of knowledge concerning what we do on a daily basis. He needs to apologize to the committee members he blatantly attacked. We are working tireless hours trying to do the best for our students that we can."