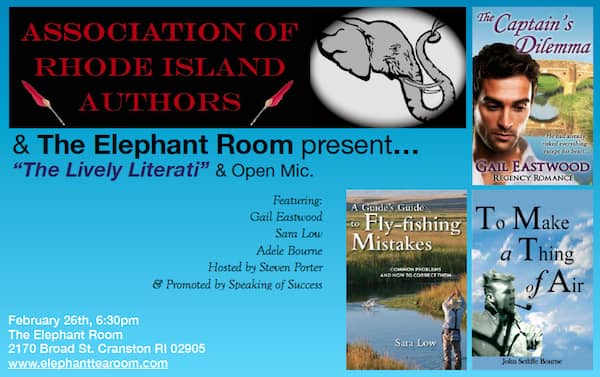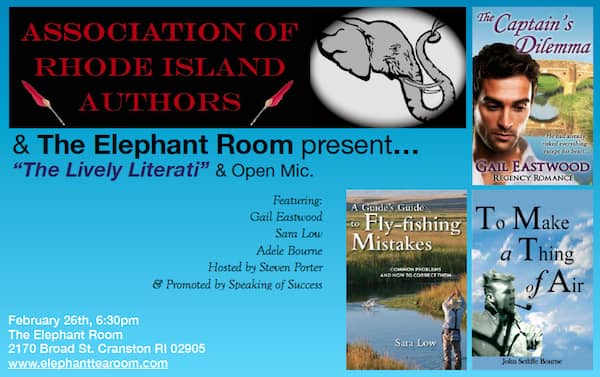 Warwick, RI — This week's events are all about expressing oneself through poetry, song, acting — and food.
Be sure to click the links for more information and ticket ordering, where applicable.
Can't Miss:
Thursday night, Feb. 26, is the next installment of Lively Literati at The Elephant Room in Pawtuxet. Hosted by the Association of Rhode Island Authors, the gathering features readings by great local scribes.
This month's authors are Gail Eastwood (The Captain's Dilemma), Sara Low (A Guide's Guide to Fly Fishing Mistakes), and Adele Bourne, who will be reading from her husband's poetry collection, To Make a Thing of Air.
The location — The Elephant Room — is a great backdrop for the free event, so take the hike down there and support the local arts. Readings start at 6:30 p.m., with the chance for audience members to share their works afterwards.
Thursday, Feb. 26, 2 p.m.:
The Last Five Years at OST:
Alyssa Gorgone, who's performed in Ocean State Theatre's productions of Legally Blonde and Les Misérables, takes to the stage with David Demato [Jersey Boys] for the new production of The Last Five Years, an examination of a relationship explained through song.
Time magazine named the play one of its 10 best shows of 2001, and Jason Robert Brown won a Drama Desk award for the production.
Previews continue at 2 and 7:30 p.m. on Thursday for a special $39 ticket price, with opening night set for Friday, Feb. 27. Online tickets for regular shows are $39/$49/$54.
Friday, Feb. 27, 7 p.m.:
Bring Your Own Improv at WMOA:
If watching a show isn't your thing, here's a chance to be part of it. The creative folks at Bring Your Own Improv set up at Warwick Museum of Art in Apponaug every Friday night, with a youth show starting at 7, then they play blue [meaning adult content, people] at 8.
Tickets are normally $8 for ages 13-64 and $4 for under 12 — but you can take advantage of an early bird special by ordering online at least 24 hours in advance. Service fees apply, but you'll still be saving some scratch.
Tuesday, March 3:
Wine and Food Tasting, 5:30 p.m.
WMOA is also the setting this week for the Central Rhode Island Chamber of Commerce's "Bella Vino" wine and food tasting.
Enjoy tasty dishes prepared by Chef Kevin Millonzi of Millonzi's Fine Catering and Millonzi's Bar & Grille [that's some consistent marketing you got there, Kev] and wines brought in by JC Imports and presented by Sommelier Jonathan Feiler of Ocean House.
Tickets are $25 and available online. You can also ask to be invoiced — but hurry! Seats are limited.