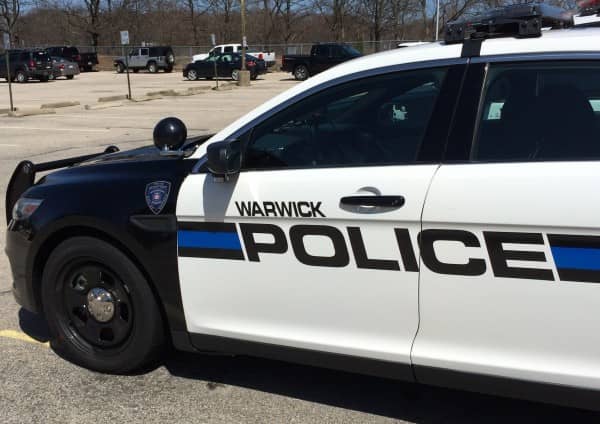 WARWICK, RI — Warwick Police charged a Providence man with DUI after finding the dozing driver on an offramp on Rte. 37 June 5 at 5:24 a.m.
Officer Keara Enos was first to respond to the call that morning to Rte. 37 at Post Road south, where a gray 2019 Toyota Highlander was reported stopped on the Rte. 37 East off-ramp. Enos found the Highlander stopped at the exit to the off-ramp, blocking more than half the single lane, according to the officer's report.
Enos approached the driver's side window and looked inside, finding a man laying back in the driver's seat, asleep, with loud music playing on the radio. The SUV was running and was in "drive," Enos reported.
"I opened the driver's side door and was immediately overwhelmed by the odor of marijuana emanating from the vehicle," Enos wrote in here report. She also noted an open glass bottle of Modelo in the center console.
Enos determined the driver, later identified as Keywion Brown, 32, of 5 Salisbury St., Apt. 2, Providence, was breathing, and shook him to wake him, to no avail. She rubber her knuckles across his sternum and shouted, which woke him. Brown suddenly sat up, with a confused expression and severely bloodshot eyes, according to the report.
After several requests for him to put the SUV in park, Brown eventually did so. She ordered him out of the car, and Brown refused. Enos grasped his arm and repeated the order, and Brown finally complied after two other officers arrived to assist.
Once outside the vehicle, Brown appeared unsteady on his feet. Enos asked where he had been coming from, and Brown replied he had been delivering food for Door Dash. Enos asked if he had been drinking earlier, and Brown replied that he had "stopped a while ago," according to the report.
During sobriety tests, Brown exhibited a lack of smooth pursuit and involuntary movement in his vision. Enos also asked him to perform a Modified Rhomberg Balance test, asking him to close his eyes and tilt his head back, then count 30 seconds. Instead, Brown touched his chin to his chest and closed his eyes.
Enos asked Brow to sit on the curb and wait for WFD personnel to tend to him. As he sat, Enos reported, he became belligerent, mumbling and then growing angry and yelling when asked to repeat himself. When WFD personnel arrived, Brown also became aggressive with them, and did not give coherent answers to their questions.  Enos and WFD personnel decided to transport Brown to Kent Hospital for an evaluation. His Highlander was taken from the scene by City Towing.
Inside his SUV, officers found 4-6 pills identified as MDMA/Ecstasy.
At the hospital, Brown briefly used a phone to make a call, but it was taken away and hung up after he began waving it at hospital staff. He also briefly consented to a blood test, and then refused any further blood samples after one vial of blood was drawn. When asked if he was refusing a blood test entirely, Brown said he was not refusing a blood test. He next asked Enos what had happened earlier in the morning.
His blood was tested and found to contain MDMA, according to the report.
He was transported to WPD headquarters, 99 Veterans Memorial Drive, Warwick, RI, where he was charged with one count of DUI, blood alcohol unknown, 1st offense, and also with refusing a chemical test. He was also charged with possession of a Schedule 1 substance, less than 10g.
Brown was later released into the custody of a sober adult.