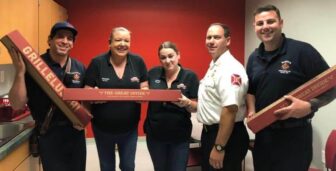 WARWICK, RI — D'Angelo Grilled Sandwiches delivered nearly 300 feet of sandwiches to more than 40 fire New England stations Sunday, including to Warwick firefighters and West Warwick firefighters.
The total number of sandwiches stretched end to end would equal the length of nearly 10 fire trucks, according to an announcement from the sandwich company.
The 29″ Great Divide, normally found on the D'Angelo catering menu, is a sandwich of epic proportions, easily feeding an entire family or hungry sports team. Each participating company D'Angelo hand-delivered nearly seven feet of this sandwich (three Great Divides) to local fire stations. The delivery served as a "thank you" to the fire fighters for their constant hard work and service to their communities.
The fire station giveaway is part of the company's new 29″ Great Divide Giveaway, an ongoing program where on the 29th day of each month, every company D'Angelo location will donate 29″ Great Divide sandwiches to designated non-profit organizations such as schools, fire and police departments.
"The 29″ Great Divide Giveaway program is D'Angelo's way of giving back our local heroes as a token of appreciation for their incredible dedication and all they do," said Tom Sterrett, D'Angelo Grilled Sandwiches president.
D'Angelo will continue this program throughout the year, aiming to reach a variety of public servants across every town it serves. For access to additional food rewards and offers, guests can sign up for the D'Angelo text program by texting FREE to 40518.