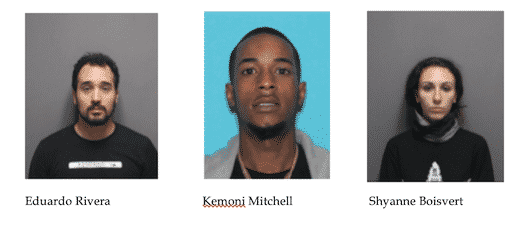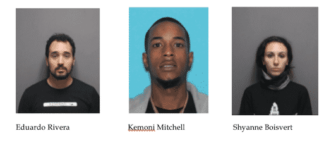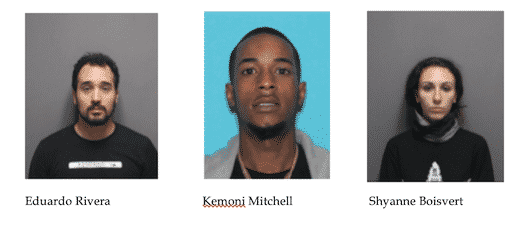 CRANSTON, RI — Cranston Police report an officer struck by a Warwick ATV rider New Year's Day is home recovering from his injuries while the rider and two others are in jail.
At approximately 3:54 p.m. that day, the officer was patrolling in a marked cruiser when he spotted about 30 motorcycles and ATVs on Atwood Avenue in Cranston.
According to Cranston Police, the riders were driving recklessly with "complete disregard" for other drivers, weaving in and out of traffic, speeding and ignoring traffic signals at intersections.
A motorcycle rider with no license plate abruptly stopped and positioned her vehicle to block traffic on Atwood Avenue before dropping it to the middle of the road.
When the officer stopped his cruiser and approached the rider on foot, she, later identified as Shyanne Boisvert, age 23, of 20 Hurdis Street (Apt. 19), North Providence, pushed the officer. The officer took her to the ground to place her in custody.
While the officer was kneeling in the roadway to handcuff the suspect, several of the other riders began to circle him with their vehicles in a threatening manner.
One ATV rider, later identified as Eduardo Rivera, 33, of 20 Modena Drive, Warwick, RI, revved his engine and lurched forward, riding over the back of his legs. Another rider proceeded to smash out the rear window of the marked police cruiser.
Officers activated their overhead lights and sirens, but Rivera and the other riders refused to stop. Some headed down side streets, but officers focused on Rivera, chasing him through Johnston and Providence. While on Plainfield Pike at the intersection of Thornton Street in Johnston, Rivera struck the side of a Cranston Police cruiser, disabling the ATV. Rivera abandoned it and jumped on the rear of a second ATV operated by Kemoni Mitchell, 22, of 93 Goddard Street (Apt. 2), Providence.
Officers pursued the ATV occupied by Mitchell and Rivera into Providence.
Mitchell lost control of his vehicle on Union Avenue at the Rte. 10 overpass and struck a passing car. Both Mitchell and Rivera attempted to flee on foot before police apprehended them.
At the time of his arrest, Mitchell was in possession of a quantity of suspected "crack" cocaine and marijuana, police report. The license plate for Boisvert's motorcycle was later found inside of her backpack.
The officer struck by the ATV was transported by rescue personnel to Rhode Island Hospital, where was being treated for his injuries, which do not appear serious.
Three other Cranston Officers incurred minor injuries while pursuing Mitchell and Rivera on foot and taking them into custody. These injuries did not require medical treatment. Mitchell is being treated at Rhode Island Hospital for a laceration to his hand believed to have occurred when he scaled a fence while being pursued by the arresting officers.
The three were arraigned at Cranston Police Headquarters on the following charges:
Rivera
Felony Assault
Reckless Driving/Eluding an Officer in High-Speed Pursuit
Resisting Arrest
Mitchell
Reckless Driving/Eluding an Officer in High-Speed Pursuit
Possession of a Schedule I/II controlled substance with the intent to deliver (Crack cocaine)
Resisting Arrest
Obstructing an Officer in Execution of Duty
Disorderly Conduct
Boisvert
Simple Assault
Reckless Driving
Resisting Arrest
Disorderly Conduct
All three suspects were also be cited for several motor vehicle violations. Mitchell will also be cited for Possession of Marijuana (less than an ounce).
"This incident illustrates the dangers associated with the reckless and illegal operation of all-terrain vehicles on public roadways," said Col.Michael J. Winquist, Chief of the Cranston Police Department.
"This problem is occurring in many metropolitan cities across the country. Law enforcement cannot turn a blind eye and allow these operators to take over our city and town streets through intimidation and assaultive behavior. The brazen assault of a police officer is reprehensible, and those responsible are now facing serious criminal charges."