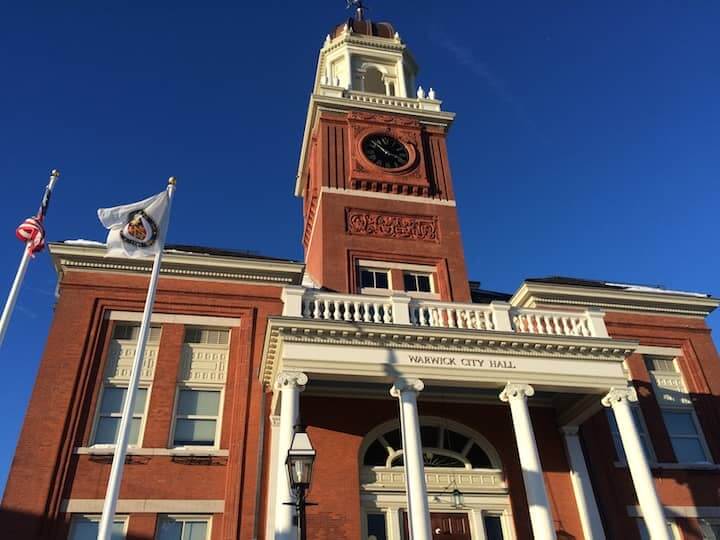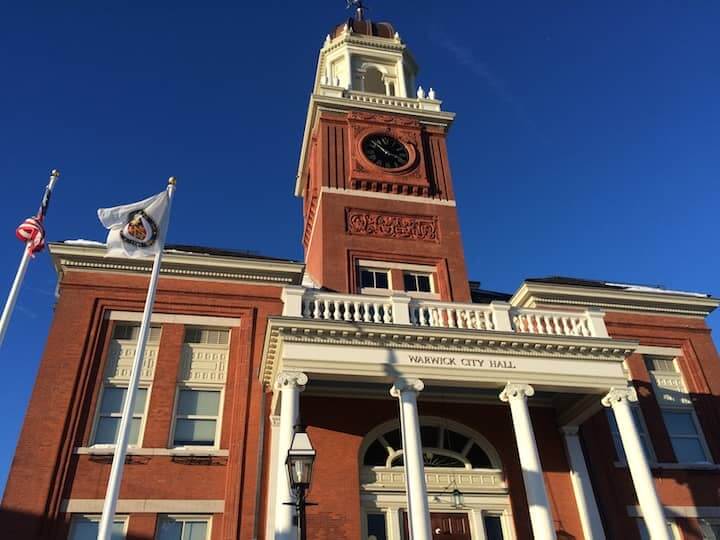 WARWICK, RI — The Warwick City Council  approved a $5,000 slide for Potowomut Playground and $2,500 for a woman's DPW-trimmed trees Wednesday at City Hall before declining to oppose the Clear River Energy Center in Burrillville on a 4 – 5 vote.
The close vote placed Warwick among the few RI communities that have either not yet made decisions on opposing the plan or which have not offered support in opposition to Invenergy LLC's planned 1,000 Megawatt Power Plant fueled by fracked gas and diesel oil sited nearby recreational and conservation areas including George Washington Park, Pulaski Park, and Buck Hill Management Area.
Twenty nine Rhode Island communities have passed resolutions opposing the facility proposed by Invenergy, with Thompson, CT and Douglas, MA also signing on to voice their opposition. Forty-four RI environmental and recreational organizations have also voiced their opposition to the plan.
Those protests will be sent to the three-member RI Energy Facility Siting Board during a public comment period, which may extend another six months, said Jan Luby, of Pascoag, one of about a dozen people from other communities that have expressed their opposition to the power plant who left Council Chambers in a dispirited throng after the Warwick opposition resolution failed with only Council members Jeremy Rix, Steve Merolla, Donna Travis and Joseph Gallucci supporting it.
In every other case where their group has sought the support of RI cities and towns, Luby said, no one has denied them. "This is the first time this has actually happened," Luby said.
On Jan. 11, Johnston's City Council approved a deal to sell their water bought from Providence Water, taken from the Scituate Reservoir, to the power plant, according to a Providence Journal article. Warwick also receives its water from Providence Water, said Councilman Jeremy Rix.  He said the power plant's water use will create demand that will increase Warwick water bills.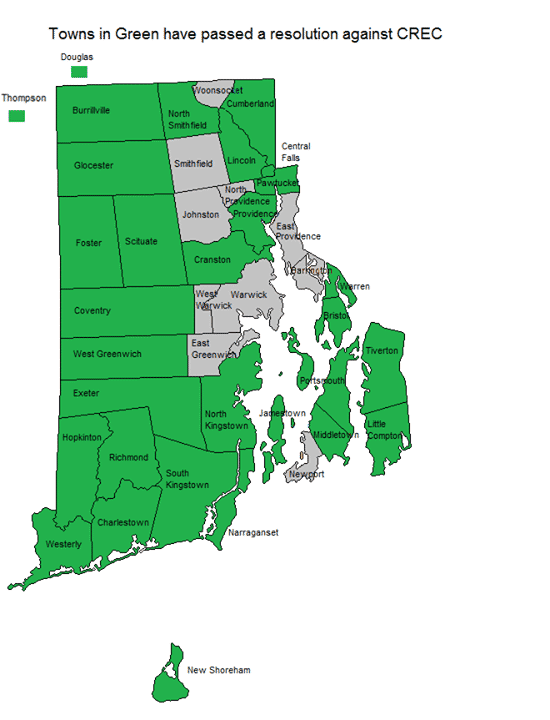 Councilman Richard Corley said his primary concern is Warwick, and that he had not spent time learning about the proposal, seeking to invest his energy on Warwick matters. "It's not an issue that the Warwick City Council should be hearing. I do not believe that the Warwick City Council should be hearing resolutions that are geared toward other municipalities," Corley said.
Rix, who, along with Merolla co-sponsored the resolution opposing the plant, pointed out the many environmental organizations that oppose the power plant, including the Nature Conservancy of RI, The Environmental League of RI, The Blackstone Rivershed Water Council, The Friends of the Blackstone and The Sierra Club of RI, and the cities of Cranston, Providence and Pawtucket.
"This is a matter that directly affects Warwick. As you know, Burrillville is our neighbor – We live in a relatively small state. I would say that each of the fellow cities and towns in Rhode Island is a neighbor. What happens just a half an hour or 45 minute ride away, we're too small to ignore what happens out there. But moreover, we are downhill, downstream and downwind from Burrillville," Rix said. He added that fuel trucks to the power plant would increase risk on the state's major highways, which run through the city.
Councilman Edgar Ladouceur said he felt there were outsanding scientific questions yet to be answered about the proposal that made the resolution premature.
Councilwoman Donna Travis backed the resolution to oppose the power plant, in support of the people living closest to it whose concerns warrant respect, and also as the voice of several of her constituents. "They live there, and my constituents are nervous," Travis said.
Councilman Joe Solomon said every community bears some of the risk from services in the state, including the current risk already run by fuel trucks traveling to TF Green Airport.
"Everyone bears a certain weight in Little Rhody," Solomon said.
After the vote, Luby noted the irony that hours before, the Burrillville Town Council had just approved a resolution in support of the Warwick sponsored legislation allowing tenants to break their leases if second hand smoke is not resolved in their apartments.
In other news, the Council approved a $5,000 replacement slide for Potowomut Playground, to repair the only broken part of the play area, which had been damaged by vandals, said DPW Director David Picozzi.
Solomon asked Picozzi to mark off the area with security tape until the repair is made, to avoid any liability from the broken slide.
The council also approved a claim made by Donna Jean Rainville, who said three trees on her property had been trimmed back too far by the city after a caller complained that they were blocking a nearby stop sign. Picozzi said someone called to complain the tree was obstructing the street sign, so his department sent a crew and cut back the trees. He said his crew only cut the trees to clear the obstructed sign, and did not cut to the woman's property line.
The resolution passed unanimously in Rainville's favor, reimbursing her for up to $2,500 for the trees.
Council members also unanimously approved new parking restrictions for the area and roads near the public boat ramp at the end of Priscilla Avenue.
"I want to stop parking on both sides of that public area on the bottom of Priscilla," Ladouceur said. The resolution passed unanimously. KRIB-Clear-River-Energy-Center-Opposition-List