Warwick, RI – Mayor Scott Avedesian visited Pilgrim High School Wednesday afternoon to congratulate the the Pilgrim High School Boys' Varsity Basketball Team on clinching the Division III State Championship on March 1.
Avedisian, an alumnus of the high school, remarked on the prowess of the basketball team and the school's entire sports community is a force to be reckoned with.
"The fact that Pilgrim continues to dominate the way it does is incredible," Avedesian said.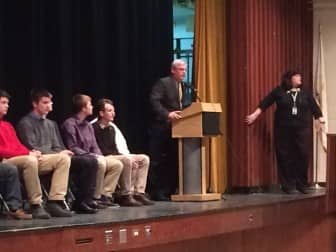 The mayor took the stage to honor the 14 members of the team before an auditorium crowded with their cheering peers, along with Principal Marie Cote, Coach Mike Batalon, and Assistant Coach Andrew Basner.
Avedesian noted that in 1983, he did his undergraduate work at Providence College.
[PC is the sixth seed in the East conference of the NCAA Tournament being held this week.]
"So, is there any connection, do you think, to the fact that our basketball team won the state championship and Providence College is now involved in the eighth NCAAs?" Avedisian asked. "With the NCAA Men's Basketball Tournament and March Madness beginning this week, it is fitting to recognize our local champions. I am very proud that the Pilgrim High School Boys' Varsity Basketball team won the Division III State Championship and I look forward to honoring them for their remarkable accomplishments."
The Mayor and Cote handed each member of the team a citation marking their championship win.
Pilgrim tallied identical scores of 48 points in two games on the way to facing the Johnston High School Panthers for the D-III title game on March 1. The Patriots defeated Johnston, 65-55, to seal the victory.