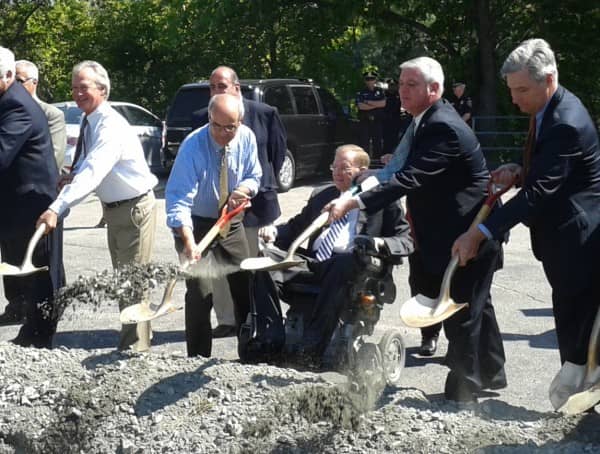 Warwick, RI — A crowd of about 40 people gathered under a tent for the official groundbreaking to mark the start of the Apponaug Circulator Project on Wednesday, Aug. 27.
Held at the Gorton's Pond Fishing Pier, the ceremony drew the entire Rhode Island Congressional delegation, Gov. Lincoln Chafee, Mayor Scott Avedisian and several city councilors.
All of the officials thanked Cardi Corporation and staffers at Rhode Island Department of Transportation for the work that brought the project — 40 years in the making, by several estimates — to this point.
"I've been hearing about this project being started since I was a kid," explained U.S. Rep. James Langevin, a native of the city. "To know this is going to happen [and] improve traffic flow, improve economic development opportunities, it's a win-win all around."
"The problem was, we had so much traffic going through the village — so we're finally correcting that [and] we can return the village to what it's supposed to be," said Chafee, also a former mayor of the city who was credited by several speakers for his work on the project.
At one point, Sen. Sheldon Whitehouse even dubbed the project "The Linc Chafee Circulator" in describing how, first as mayor, then as U.S. Senator and governor, Chafee ensured the funding for the $30-million project being done by Cardi Corporation.
The event was not without its hiccups, though — at one point, a gust of wind blew over the city flag, with the flagpole striking Chafee in the head.
"Should have worn a hard hat," the governor quipped.
Expected to wrap up in 2017, the project will include the creation of five roundabouts in Apponaug, instead of the current system of intersections — many of them allowing only one-way traffic — surrounding the village.
[Follow the Apponaug project on the RIDOT website, which includes videos and detailed looks at the upcoming work.]