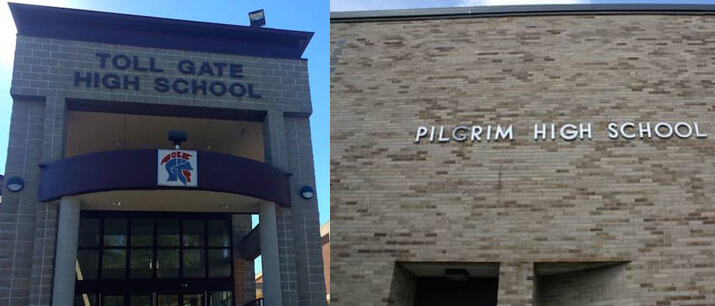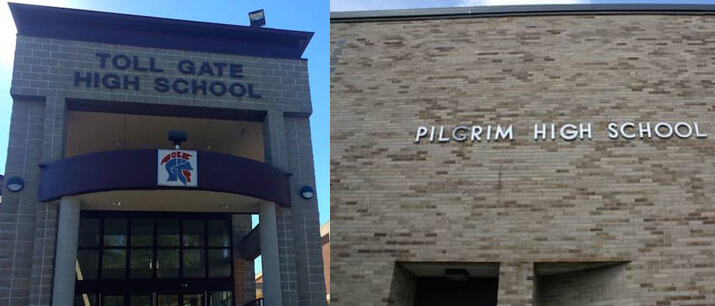 WARWICK, RI — Warwick City Councillors advise that bids for developing the former Aldrich Junior High lot and for new high school cost review are on their agenda Monday.
Warwick City Council President Steve McAllister pointed out a proposal sell the former Aldrich Junior High for $2 million to Winn Development  in a note previewing the meeting.
"This proposal is to repurpose the building and create senior housing. This can be found on Pages 22-24 of the bid package," McAllister wrote. [The package is attached at the end of this article]
"Mayor Picozzi and Warwick's City Planner did an excellent job in marketing Aldrich so that we could get four bids from qualified developers, ranging from $800,000 to $2,000,000," City Councillor Jeremy Rix wrote in a detailed email to constituents June 9.
"The City Planner and Planning Department, Mayor Picozzi, and I are all on the same page in terms of wanting an appropriate land use for Aldrich: 1) a use that's compatible with the neighborhood that, if possible, 2) preserves the building and 3) allows for continued public space and recreation behind the building," he continued.
"There are different roles in City government for the sale of City land:  First, the Planning Dept. / City Planner prepared the Request for Proposals for Aldrich and marketed the building, will be selecting a recommended bidder, and will be negotiating with or working out details with the recommended bidder.  Depending on the proposal, there may be a need for Planning Board and/or Zoning Board approval.  Then, if all prerequisites are met, it is the City Council that takes a vote to approve any sale of land and certain terms of that sale.  When issues of land use or the sale of City land come to the Council, I have given great weight to the advocacy of the City Councilor who represents that area and the neighbors who are most affected.  I would hope that they would do the same.  Finally, if the City Council approves a sale, then, the City Council's formal role is complete and it's again the City's turn to enforce its ordinances and regulations, issue and enforce Building Permits, etc.," Rix wrote
With that said, the highest bidder, a $2 million bid from Winn Development, has a proposal that appears to satisfy those three objectives.  As part of its Proposal, Winn Development provided its credentials as a large company that's been around for 50+ years and currently manages over 100,000 living units in the US, including over 1,000 in RI.  I'm not here to speak for them, but, I think it's safe to say that it'd be preferable if whoever buys Aldrich has the resources to complete what they promise to complete.  From what I'm understanding, it seems that the City is giving serious consideration to their bid, as one would expect would be the case for the highest bidder.
 More information on the bidding and process is available here:  https://www.warwickri.gov/purchasing-division/bids/sale-former-nelson-aldrich-junior-high-school-property-771-post-road
Here's a link to the City Council Committee Meeting in which the four bids on Aldrich were unsealed at 6:52 p.m. on 6/5/2023.  It opens up at the start of that Committee meeting," Rix wrote.
New High School Cost Review Bids
McAllister also noted an item on the agenda for an independent cost review for building two new high schools.
"The council will vote whether to authorize the administration to enter into a contract with Ellana Inc, Construction Consultants to review the school department's plan to build two new schools.  This authorization will allow the city to negotiate cost and timeline of the report.  Thanks to the general assembly, the deadline to start this project has been extended an additional six months while still allowing the full reimbursement from RIDE.  June 2024 is the new deadline.   This can be found on Pages 45-59 of the bid package.
Both of these items (Aldrich development and new high schools cost review) will be heard in the finance committee, which starts at 5 p.m. on Monday, June 26.  Members of the public will be able to speak on these items at that time.  The full city council will vote on the entire bid package during the full council meeting starting at 7 p.m.," McAllister wrote.